NOTICE:
This user is the winner of the October User of the Month award on SML Wiki.
Do not edit the page InternetProblem!

While this page is not protected, InternetProblem prohibits you from editing this page. If you do, you will be arrested by Officer Goodman!
WARNING!
DO NOT POST ANYTHING STUPID ON MY MESSAGE WALL!
Hey there, I am InternetProblem I am just another user who is smart well I am a user on many wikis, Person who makes games on Kodu and a Doctor (I pretty enjoy doing all) This will be expanded in the future.
Current:
Former:
Internet Testing Wiki - Bureaucrat + Administrator + Founder (From August 14th to September 6th 2018) Reason: Wiki closed
#1 It's record as most Viewed SML Video was there For 9 months
#2 Bowser Junior got More Then One Toy at Toys 'R' Us
#3 The Video Peaked as the Most Viewed SML Video of all Time
#4 They might Have put Chuck 'E' Cheese in the Thumbnail for views
#5 This video marks Ken's Debut in SML
Signature
Guestbook, can't forget about the Guestbook
Best SML Videos 2008-2019
This is a joke!
This user is currently blocked. The latest block log entry is provided below for reference:
My SML ideas!
NOTE: These are on the fanon wiki, and there isn't dates because I don't have THAT MUCH time to make stories.
Goals
50 Edits (Completed)
50 Points (Completed)
100 Edits (Completed)
100 Points (Completed)
200 Edits (Completed)
200 Points (Completed)
500 Points (Completed)
500 Edits (Completed)
Top 19 Most Points (Completed)
666 Edits [So I Am Truly Evil] (Completed)
700 Edits (Completed)
900 Edits (Completed)
1.000 Points (Completed)
2.000 Points (Completed)
3.000 Points (Completed)
4.000 Points (Completed)
5.000 Points
Number 1 most points (Completed)
Become a administrator
Be among the cools on SML Wiki discord
Have more edits then achievement points (Completed, wonder why I made this a goal in the 1st place)
1.000 Edits (Completed)
2.000 Edits (Completed)
3.000 Edits (Completed)
4.000 Edits (Completed)
5.000 Edits (Completed)
6.000 Edits
7.000 Edits
Videos I Hate
Characters I Like
Videos I Like
Characters I Hate
Likes and Dislikes
Likes
The word Mkay
Soccer
SML
PlayStation (Cause It Has shapes on It)
Yoshi
Toad's Songs (Milk and Cookies is my favorite)
Kittens
Sonic The Hedgehog (Except some games like Sonic 06 & Sonic Boom)
The Simpsons (Formerly)
Family Guy
Futurama
Rick and Morty
South Park
YouTube (Before 2017)
Cats (the pet, not the movie)
Netflix
Amazon Prime Video
Old Jeffy
This Wiki
SMG4
Swimming
Titototter
Computers
Money (100% not Goodman)
Going On Holiday
Troll Faces (The memes)
The old background
Black Yoshi saying "MARIO PLEASE!"
Grumpy cat memes (rip)
Forums
God
Dislikes
Emojis
Jeffy Fanboys
Baked Beans
Odd One Out
Warnings/Notices (even though there mostly important so I don't do the same mistakes again, and haven't got one in a very long time)
When people revert my edits.
Any SML Reuploaders
Spanish songs
Bob's Burgers
Learning outdoor stuff
Getting Blocked from wikis for Weeks or Months
April Fools Day
Kids Apps
Vandals
The new background
Cancer
YouTube Kids
Wasting Food
The Dentist
The Dab
Puppies
Barking Dogs
Learning history
Jeffy Throwing A Tantrum
The Loser Says Joke
Homework
Every single Disney Channel original film
Jake & Logan Paul
School
Getting Made Fun of
Science
Daisy
Mario Torture Videos
Youtube's new rules
Soup
News
Golf
Grammar Ads
Logan Vlogs (On Chilly)
Ken (Cody's doll)
Discussions
Big Chungus
Ugandan Knuckles
Vandals reverting my edits
Friends
Please don't edit this section and if you wanna be in, you can ask me nicely on my wall
My most and least favorite SML videos of each month
2018
2019
Days till my birthday (why did I do this answer is no reason)
Userboxes
| | |
| --- | --- |
| | This user has 50 edits. |
| | |
| --- | --- |
| | This user has 100 edits. |
| | |
| --- | --- |
| | This user has 200 edits. |
| | |
| --- | --- |
| | This user has 500 edits. |
| | |
| --- | --- |
| | This user has 666 edits. This means that they are true evil. |
| | |
| --- | --- |
| | This user has 700 edits. |
| | |
| --- | --- |
| | This user has 900 edits. |
| | |
| --- | --- |
| | This user has 1,000 edits. |
This user is the
King of Puppet
This user is
20 years old
This user has been
tortured by Bowser
This user's favorite character is
Mario.
| | |
| --- | --- |
| | This user has swum in Bowser's pool |
Polls
What is your favorite season of SML?
Do You Like InternetProblem?'
Made it to the end gallery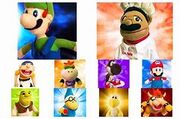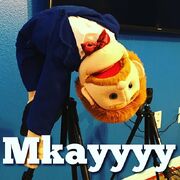 Community content is available under
CC-BY-SA
unless otherwise noted.