Please note the following:

This article may contain language that may be offensive to some users.
Anthony "Tony" The Tiger is a former major character in the SuperMarioLogan series. He usually acts immature and a bit dumb for no apparent reason. He was one of the first characters in SuperMarioLogan.  
History
Tony was adopted by Mario and Peach. Tony the Tiger made his first appearance in one of SuperMarioLogan's earliest videos and has been a recurring character ever since (in recent times, not as much). Tony first appeared in "Mario Interview: "Tony The Tiger""; a video from SML released on December 30, 2007. He made his first appearance as the Frosted Flakes cereal mascot; Tony the Tiger.
He is portrayed as obnoxious, dumb, confused, always so happy, excited, and many believe he is may be retarded, despite a lack of confirmation by Logan.
He is voiced by Logan's older brother Lance. Tony usually interrupts Mario's videos on YouTube and is an annoyance to Mario. Tony the Tiger was the first main SuperMarioLogan character besides Mario.
From his first appearance until around mid-2008, Tony was arguably the unstated main character of SuperMarioLogan.
He was also Mario's sidekick for three years. In mid-2008; Mario and Luigi's stupid and dumb adventures was born and at that point Mario, Mama Luigi, and Bowser became the most popular SML characters.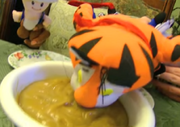 When Mama Luigii died in 2009, it is inferred that Tony the Tiger returns to SuperMarioLogan as one of the main characters. Although, he still didn't appear that much. Only two other old SML characters have stood the tests of time; Shrek and Woody.
Shrek and Woody have become much more popular than Tony, as he hasn't had any videos recently and his future doesn't seem bright. He is now only used occasionally and rarely, but still lives with Mario.
However, Tony made a comeback in Mario's Family Moves Out! and on a cereal box in Bowser Junior Goes To Disney World! Part 1, Black Yoshi The Assistant!, and Chef Pee Pee's Kids.
Tony makes a small cameo during a flashback sequence in WE GOT 1,000,000 SUBSCRIBERS!.
Tony also reappears in Cody's 10th Birthday! to give a shoutout during post video,
Role in American Idol Mario Edition
Tony appeared as one of the three judges of American Idol Mario Edition Season 1, along with Mario, and Peach.
Trivia
He has mixed feelings about his own cereal (Although he hates Cookie Crisp). Sometimes he says he likes it, and sometimes he says he dislikes it.
He has a strange obsession with the word "poop".
He and Mr. Pig used to be costars of SML, and now they rarely appear.
It is unknown why he didn't appear in The Christmas Special!, since he lives in the old apartment as well.
Logan revealed in a livestream with SML Reviewer that Jeffy was the replacement for Tony since Lance couldn't do Tony's voice anymore.

But after the stream in The Baby Project!, Logan said the next video may feature Tony.
After having not appeared at all since moving into the apartment, he appeared to do a Patreon shout-out to Dabhdude at the end of Cody's 10th Birthday!, nearly 3 years after his last appearance.

He is likely to appear in The SuperMarioLogan Movie.
Likes and Dislikes
Likes
Poop (a lot)
Frosted Flakes (sometimes)
His friends
His family
Being stupid
Classic SML videos
The Frosted Flakes cereal box
Froot Loops
The word "poop"
Anything about poop in general
Blue's Clues
Mickey Mouse Clubhouse
Shrimpos
Dislikes
Cookie Crisp
Frosted Flakes (sometimes)
Goofy on drugs
Poll
Do you like Tony The Tiger?
Community content is available under
CC-BY-SA
unless otherwise noted.