Wiki Targeted (Entertainment)
Play Sound
This article is about the former cast member. You may be looking for the character named Tito Brown.
This page is currently protected due to excessive vandalism or other reasons. If you wish for any changes to be made, please leave them in the comments below and an admin or moderator will add them.
Main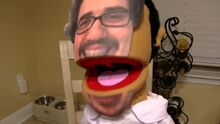 Minelli Chavez Jiménez II (or Jr.), known as Tito and Teeds, or by his online persona Titototter, is an American actor and comedian, puppeteer/plusheteer, a former SML cast member, and notably Chilly Jimenez's older brother. Tito was most known for appearing in Chilly's vlog channel and he held a strong friendship with his former friend, Logan, but after Chilly and Logan broke up in the late-2019 due to Chilly cheating, Tito took his sisters side so he and the rest of his family were kicked out of the house by Logan and the rest of the SML crew.
In the vlogs, Tito usually performs funny and comedic skits with Logan and they hang out together.
Tito is also known for his plush channel, Titototter, which revolves around Sonic and his daily, unusual lifestyle.
A video on Chilly was posted June 12, 2020 of Tito breaking and entering into Logan's house, near the end of the vlog it is revealed that it is a skit. Which could mean Logan and Tito are friends again. This is later confirmed when Logan posted a Tiktok featuring Tito which means Logan and Tito are on good terms now.
SuperMarioLogan
Tito's most common job in making SML videos was holding and portraying characters who have the same voice actor for multiple characters in the scene or performing background tasks that are meant to seem possible in the video.
In Bowser Junior's Midnight Snack!, Tito made his first-ever appearance in an SML video, playing Minelli, who was a Gas Station Clerk. He also later appeared in Nintendo Switch in a commercial for the light switch and served as a secretary for a Fidget Spinner Business. Tito used to loved playing video games against Logan and the SML crew and enjoyed hanging out. He also appeared in most Chilly vlogs and has moved in and lived in Logan's house along with his siblings until Logan broke up with his sister. His bedroom was Bowser's room. Tito is best known for his appearance in Chilly's vlogs.
Titototter
Logan has hinted the idea of bringing Sonic the Hedgehog back and having Tito as the new voice actor, due to Tito's mild obsession with Sonic. This later led to the creation of Titototter and started a series called TT Movies (Titototter Movies). TT Movies are similar to SML Movies that Logan, Chilly, and JJ often voice in (Anthony is also a member of the TT Movies cast).
Residence
Tito lived in the house with Logan and Chilly, along with JJ. Tito loved playing video games against Logan and the SML crew and enjoys hanging out. Tito is best known for his appearance in Chilly's vlogs.
However, after Logan and Chilly's break up in late 2019 and subsequent end of friendship with Logan, Tito moved out with the rest of his family and has maintained a private life. Later in 2021, Tito returned to the SML house to give Logan his old gaming channel meaning the two must have moved on from the past.
Social Media
Instagram:
https://www.instagram.com/titototters/
@titototters
Likes and Dislikes
Likes
Dislikes
YouTube Channel
Titototter (the sister channel of SuperMarioLogan)
Character Roles
Tito has played several characters with minor roles in SML videos. Most of the characters he plays as are usually with himself dressed as the character.
Trivia
Poll