Wiki Targeted (Entertainment)
Play Sound
Please note the following:

This article may contain language that may be offensive to some users.
"The Teleportation Machine!" is the 403rd episode of SML Movies. 
Synopsis
Cody creates a teleportation machine because he is tired of walking to Junior's house!
Plot
This video starts with Bowser Junior and Joseph hungry so they started eating play-doh until Cody came in with a teleportation machine. Junior ask Cody what that is and he said that it is a teleportation machine use for him to transport to Junior's house.
Since his house is 9 miles said away, He'll have to walk a long time. Bowser Junior ask why he couldn't just ride his bike and Cody respond that's it broke because he like how it feels.
Junior want some to see if it work so Cody tell him to try it. He said he first need the remote so he then started to look around. However Cody said he forgot to bring it at his house. Junior said to go back home but Cody said he can't since he lives 9 miles from here.
Junior tells him to call his mom but Cody denies because He said his mom is stupid. Cody then give it a try so he call Judy. She tell him to go to his room and get Cody the remote only and not anything else but he keep touching random stuff like a Rudolph nose and a whipping string so Cody have to get it himself.
Cody went and got the remote. Junior then tell him to tells him to teleport it and he did. He press the button and the play-doh disappears. Everyone in scene was shocked. Junior wants to confirmed this so he carried the remote and teleported across. He teleported to Cody's house and saw the play down and Cody's mom dressing up as a pig so he made some Cody's mom joke. He went teleporting back and told Cody about the situation. They Cody and Ken decided to teleport together too but when they teleported back, their head and body switch so Cody has Ken's head and Ken has Cody's head.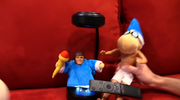 Which makes Cody a total jerk so he dumped ken & unfriended Junior & Joseph because they're now shorter than him he also now dating a figure named Todd who was at the gym. Cody even told Junior & Joseph that Todd can suck his own ask if they can suck their own s which they said no.
After Cody & Todd left Junior & Joseph planed to get Cody back to normal.They called Brooklyn T. Guy to fixed Cody which he questioned why they don't have any normal medical problems for children? After they talk about doing a head surgery on Cody Brooklyn T. Guy just rolls with it but only they bring Cody to the red couch. Cody is excited & wants everyone to see Todd sucking his own Junior introduce Frank to Cody which Cody is really in love.Junior tricked Cody that Frank is going to blindfold Cody & do stuff to his head which Cody is really exited for that.
After the surgery Cody is back to normal & upset Junior then told Cody he was a jerk when he had Ken's body he than told Cody that Todd & Frank are now in a relationship.In the end of the video Cody & Junior planed to destroy the Teleportor until Cody's Mom wearing the Pig gimp mask while oinking which Junior points out he was right that Cody's Mom was a pig which Cody sighed and the video ends.
Characters
Trivia
This video reveals that Cody's house is 9 miles away from Junior's, and that he's into BDSM.
This episode was uploaded 4 years after "Bowser Junior's Breakfast".
After Joseph said "Dude, I'm outta here!", he returned to ask Junior if Cody is gone.
References
The plot is directly based on the 50's horror film The Fly.
Poll
Polls have been archived. See here for poll archive.
Community content is available under
CC-BY-SA
unless otherwise noted.