This article is about the season, You may be looking for SML Movies.

The ninth season began on January 2, 2017 and ended December 2017. Zeke briefly returned this year, only for the remake of Toad's Mistake and for the big SML movie. Again, almost 100 episodes had been produced!
Overview
Compared to previous seasons, the new era has begun to introduce many more videos with deeper plots than previous seasons, adding more lore than ever before to the SML canon. This season has had more swearing than last season and Logan has stopped censoring the profanity and has also begun to introduce videos featuring a wide majority of the SML cast. Thus far, the 9th season has been so far met with mixed to average reviews with some saying that Logan is starting to improve. Unfortunately, later throughout the year, the season has suddenly been met with similar lesser criticism to what the 8th Season received with a lot of diehard fans questioning if the series is getting worse or not. This is the first season to result in well documented YouTube drama about behind the scenes stuff and is also the first season to have many videos end up on the YouTube trending page. The new era is one of the most important seasons in the history of SML Movies, since not only has Logan gained the most subscribers in a season, but his channel has begun to be at its most popular heights in history.
Also, this season marks the end of Bowser's role as the main antagonist of the series and has become an anti-hero, as Goodman now takes this role of being the main antagonist, serving as the greedy landlord of the family's house, and Mario is constantly forced to find hard ways to pay his former friend and arch-enemy off. Also, other characters such as Junior and Jeffy started to change from this season onwards. This season marks the end of Toad and Shrek's roles as main characters. Jeffy is now the official son of Mario and Rosalina.
This season has been noted from taking great inspiration in some of its plots from Spongebob, and more inspiration from Family Guy, South Park, and Aqua Teen Hunger Force have been spotted in the overall humor than any previous season.
Episodes
Episode
Thumbnail
Episode
Uploaded
Description
266
The Quiet Game!
January 2, 2017
Jeffy has to be quiet.
267
Substitute Teacher!
January 5, 2017
Jackie Chu is sick, so, there is a substitute teacher!
268
Jeffy's Pet!
January 10, 2017
Jeffy sees Junior's dog and decides he wants a pet.
269
The Bake Sale!
January 19, 2017
After Joseph breaks every bone in his body, trying to pull off a crazy stunt, Junior and Cody have to raise money to pay for his medical bills!
270
Jeffy's Parents!
January 23, 2017
We finally get to see who Jeffy's real parents are after Mario first met him at the apartment complex a year ago!
271
Bowser Junior's Curse!
January 27, 2017
Bowser Junior gets the Corn Dog Curse from throwing corn dogs outside!
272
Inside Jeffy
January 30, 2017
We go inside Jeffy's brain to see what makes him the way he is!
273
Netflix and Kill
February 2, 2017
Bowser Junior and his friends watch a haunted movie that kills you seven days after you watch it!
274
Root Beer!
February 6, 2017
Junior and his friends drink a lot of root beer, and get drunk!
275
Chef Pee Pee The Robot
February 10, 2017
Junior and his friends think Chef Pee Pee is a robot.
276
The Love Potion!
February 14, 2017
Junior thinks the new girl in school is HOT! So, Cody makes a love potion to make her fall in love with Junior!
277
Joseph Moves In!
February 18, 2017
Joseph's trailer catches on fire, so, he asks Junior if he can live with him. Junior says yes, but, will he regret his decision?
278
Jeffy Gets Stung By A Bee!
February 23, 2017
Jeffy gets stung by a bee while trying to eat it.
279
Bowser Junior Goes To The Future!
February 27, 2017
Bowser Junior is frozen for fifty years! Kind of...
280
Bowser Junior Kinda Goes Camping!
March 2, 2017
Bowser Junior's friends want to go camping, but, Junior is afraid of sleeping out side.
281
Nintendo Switch
March 4, 2017
Mario is given a Nintendo Switch that he must sell to an investor for Nintendo.
282
1 2 Switch Bodies!
March 8, 2017
Bowser Junior and Jeffy switch bodies while playing '1,2 Switch' on the Nintendo Switch and have to find out how to switch back to their original bodies!
283
Jeffy The Rapper!
March 13, 2017
Jeffy becomes a rapper! But, is the thug life too tough for him?
284
Mistaken
March 20, 2017
Cody accidentally leaves Ken with Junior and Joseph...
285
Bowser Junior's Playtime 5
March 26, 2017
Bowser Junior, Cody, Jeffy and Joseph play house for the fifth time!
286
Bowser Junior Sneaks Into A Movie!
March 30, 2017
Bowser Junior and his friends sneak into a rated R movie!
287
Jeffy's Fun Day!
April 1, 2017
APRIL FOOLS 2017! Originally titled:

'SuperMarioLogan The Movie!'. This video has triggered over twenty thousand people!

288
Loch Ness Monster!
April 5, 2017
Bowser Junior thinks the Loch Ness Monster lives in the lake in his backyard.
289
The Baby Project!
April 9, 2017
In class, Junior, Jeffy, Cody, Joseph, Toad and Patrick are given babies they have to take care of for 1 whole day! Will they pass the grade?
290
The Couch!
April 12, 2017
Shrek causes an accident on the couch.
291
The Golden Egg!
April 16, 2017
It is Easter! And there is a golden egg hidden somewhere in the house!
292
Jeffy Loses His Pencil!
April 19, 2017
What the title says.
293
The Mystery Safe!
April 24, 2017
Bowser Junior finds a mystery safe in his backyard!
294
The Dead Body!
April 27, 2017
Mario accidentally runs over Hansel, and kills him. Mario and Jeffy try to hide the body without getting caught.
295
Cody's Missing!
April 30, 2017
Cody is missing from all Nintendo games!!!
296
Jeffy's New Toy
May 5, 2017
Jeffy gets a new toy!
297
Bowser Junior's Big Spill!
May 7, 2017
Bowser Junior spills his drink and puts the blame on Chef Pee Pee!
298
The Secret Door!
May 10, 2017
Mario, Jeffy and Rosalina are playing hide and seek. But, Jeffy opens the secret door...
299
Drawing Jeffy!
May 14, 2017
Jeffy's pencil in his nose can make drawings come to life!
300
Jeffy's Piggy Bank!
May 19, 2017
Mario gets Jeffy a piggy bank to keep all his money safe!
301
Chef Pee Pee The Babysitter!
May 25, 2017
Mario needs Chef Pee Pee to babysit Jeffy!
302
Black Yoshi's Scam!
May 28, 2017
Black Yoshi scams people out of a million dollars!
303
Jeffy's Fidget Spinner!
May 31, 2017
Mario buys Jeffy a fidget spinner, so, he will stop being annoying to everyone!
304
Stuck!
June 6, 2017
Bowser Junior and his friends get stuck in the couch!
305
Jeffy And The Beanstalk!
June 10, 2017
Jeffy buries all his green beans in the backyard.
306
Jeffy Sneaks Out!
June 15, 2017
Jeffy wants to go to the movies with Junior, but, Mario will not let him, so, he decides to sneak out!
307
2 Tickets
June 18, 2017
Bowser Junior wins two tickets to punch in the Face-a-thon, but, can only take a friend!
308
The Bet!
June 21, 2017
Chef Pee Pee is entering "The Best Chef Competition"! Mario need to pay his house payment to Mr. Goodman, but he does not have the money to pay for it...
309
Jeffy's Brain!
June 25, 2017
Jeffy sneezes his brain out.
310
The Magical Button!
June 30, 2017
Bowser Junior and his friends find a magical button in the attic!
311
Chef Pee Pee's Accident!
July 4,

2017

Oh no Chef Pee Pee! Happy 4 July!
312
Sunken
July 10, 2017
Ken has sunKEN to the bottom of the ocean. It is up to Cody and Junior to save him!
313
Jeffy's TV Show!
July 12, 2017
Jeffy and Mario get their own reality TV Show! But they need to change a few things.
314
Jeffy Gets Bullied
July 15, 2017
Jeffy is getting bullied at school. Jeffy teaches the bully a lesson!
315
The Fender Bender!
July 19, 2017
Mario accidentally rear ends Mr. Goodman!
316
SuperPowers 2
July 24, 2017
Junior and his friends get superpowers again!
317
Shrek's Coma!
July 27, 2017
Shrek is in a coma from eating too much cheesecake!
318
The Test!
August 8, 2017
There is a BIG test coming up! Junior and his friends have to pass to get a PIZZA PARTY!
319
Black Yoshi's Mistake!
August 12, 2017
Black Yoshi needs a new Xbox.
320
Chef Pee Pee The Octopus!
August 17, 2017
Bowser Junior thinks Chef Pee Pee wants to be an octopus!
321
Jeffy's Birthday Wish!
August 21, 2017
It's Jeffy's 13th birthday! The same day as the solar eclipse!
322
Picture Day!
August 27, 2017
It's picture day at school! Who will have the best picture?
323
Spoken
August 31, 2017
Cody wants to prove to his friends that Ken is real!
324
Jeffy's Shirt!
September 3, 2017
Jeffy's shirt gets dirty and Mario has to wash it!
325
Jeffy's Home Alone!
September 8, 2017
Mario leaves Jeffy home alone!
326
Bowser Junior's Doll!
September 11, 2017
Bowser Junior gets a new doll!
327
Bigfoot!
September 15, 2017
Bowser Junior and his friends try to find Bigfoot!
328
Jeffy Breaks His Helmet!
September 19, 2017
Jeffy needs a new helmet because he broke his old one!
329
Chef Pee Pee's Bucket List!
September 23, 2017
Chef Pee Pee has one day to live!
330
Bowser Junior's 9th Birthday!
September 29, 2017
Bowser Junior's grounded on his birthday! But that won't stop him from throwing a party.
331
Jeffy's Trap!
October 5, 2017
Jeffy doesn't want to go to school he so tries to trap Mario.
332
Jeffy's Cat Piano Problem!
October 8, 2017
Mario takes Jeffy's Cat Piano and Jeffy wants it back!
333
Friday The 13th!
October 13, 2017
It's Friday the 13th and Junior thinks something bad is gonna happen!
334
Bowser Junior's Game Night 7
October 19, 2017
Junior and his friends play board games!
335
The Monster!
October 22, 2017
There is a monster under Jeffy's bed!
336
Mario's New Hat!
October 27, 2017
Mario gets a new hat after his old hat gets destroyed!
337
Joseph's Mom!
October 31, 2017
It's been 2 years and Joseph doesn't know what happened to his mom... or does he?
338
Jeffy's Dog!
November 5, 2017
Jeffy gets a dog!
339
Black Yoshi's Call Of Duty Special Edition!
November 10, 2017
Black Yoshi wants the NEW Call of Duty Special Edition!
340
Jeffy's Bike!
November 14, 2017
Jeffy get a bike for getting good grades on his report card!
341
Cody's Amiibo!
November 20, 2017
Cody finds out they didn't make an amibo of him and he is MAD!
342
Black Yoshi's Black Friday!
November 23, 2017
Black Yoshi goes black Friday shopping and gets in trouble!
343
Jeffy Gets Help!
November 27, 2017
Jeffy is acting really bad, so Mario wants to get him some help!
344
Bowser Junior Gets Sick!
December 1, 2017
Bowser Junior is sick and doesn't have anyone to take care of him!
345
Jeffy's Kids!
December 5, 2017
Jeffy has kids with his cheerio box!
346
The Diamond!
December 10, 2017
Goodman needs Mario to take care of his diamond!
347
Jeffy Plays Minecraft!
December 14, 2017
[no description available]
348
The Remote!
December 18, 2017
Bowser Junior gets a remote in his Happy Meal!
349
Jeffy's Bad Christmas
December 25, 2017
Merry Christmas!
350
Cody's Report Card!
December 28, 2017
Cody is worried about his report card!
Songs
Characters
Characters Introduced
Anger Jeffy
Sadness Jeffy
Joy Jeffy
Mario's Emotions
Mr. Sausage
Fidget Spinner Employee
Mr. Brain
Q*bert
Areola
Jeffy Salesman
Sofa Guy
Pink Happy Pony
Tito Newsman
Cody Clone
Hot Dog Man
Random Woman
The Doll
Loch Ness Monster
Bigfoot (character in Finkles**tz show)
Does Good Things Guy (mentioned)
Polar Bear
Scary Woman
The Bee
Banana Butterfly
Baby Doll
Money Thief
25 Dead People
Jellyfish
Peanut butter fish
Killer Whale
Arnold Shortman
Puss Hole
Puss Hole 2
Pool Shark
Clown
C-horse
A Fish Victim
Deep Sea Monster
Starfish
Cast
Trivia
Zeke also appeared for a brief period of time. However, this wasn't the case for Luke, as he was probably too busy.
This season marked the 10th anniversary of SuperMarioLogan, which was on December 8. Logan did a remake of his first video ever, SUPER MARIO GOT MILK, which itself was a remake of a Got Milk? commercial.
This season marks the return of Mama Luigi.
This season is the first to take place during Donald Trump's term of President of the United States following the 2016 election.
Mario and Rosalina got married this season.
According to one of Chilly's vlogs, most of Logan's videos are getting age restricted and demonetized. This is due to a combination of false flagging (either by self-righteous moral guardians or so-called "flaggots" who do so either to troll or out of frustration over Logan overusing Jeffy), YouTube falsely associating SML with the Elsagate controversy (which involves videos of children's characters performing violent and/or sexual acts), and Logan's videos being deemed advertiser-unfriendly due to their emphasis on adult humor (although even his completely family-friendly videos were age restricted and, in some cases, deleted). As a result, Logan was forced to stop cussing in videos entirely for more than a month. When videos did finally start using cuss words again in early Season 10, they were censored as a precaution, before ultimately going back to uncensored swearing as a "take that" towards YouTube's unfair treatment.
Last season to date to feature Rosalina, Shrek and Toad as main characters.

Rosalina returned as a main character at the end of 2019 due to Logan breaking up with Chilly and the others might return soon according to the latest Q&A video.
Behind the Scenes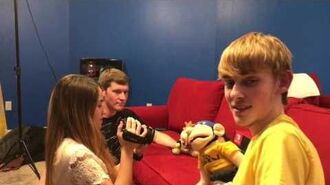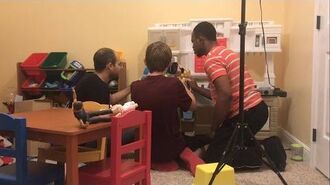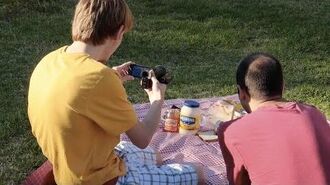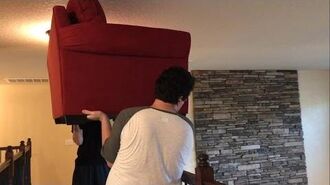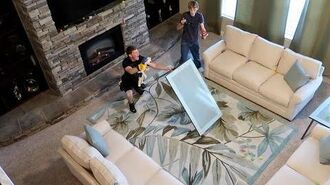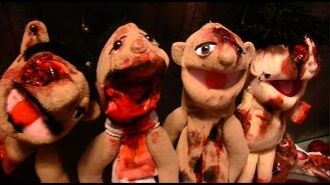 Poll
Community content is available under
CC-BY-SA
unless otherwise noted.