Mario & Luigi's Stupid and Dumb Adventures (stylized as Mario and Luigi's stupid and dumb adventures) (or initialized as MLSDA) is one of SuperMarioLogan's most successful series and the first series of SuperMarioLogan. The series follow the bizarre and unintelligent adventures of Mario and "Mama" Luigi.
About
Mario & Luigi's Stupid and Dumb Adventures is a series that ran from 2007 to 2014, and it only aired only on YouTube.
Pilot Episode: December 12, 2007, December 16, 2007, and December 23, 2007
First Episode: November 17, 2008 (Creator Logan's 14th Birthday)
Actors: Logan (2008 - 2014) Lance (2008 - 2014) Lovell (2011 - 2014) Chris (2014), and Zeke (2008 - 2009)
Final Episode: November 10, 2014
Connected/Pilot Episodes (Early 2008)
There are three episodes, as revealed at The Beginning of a Retarded Ending that are connected to the series. These are:
Luigi in Super Smash Bros. Brawl "proof" : Luigi makes a vlog about how he's in super smash brothers brawl and goes missing afterward.
Super Mario Sluggers Review : Mario and "Luigi" review Super Mario Sluggers.
SuperMarioLogan Reviews Rock Band and Guitar Hero : Mario and "Luigi" review Rock Band and Guitar hero.
Season 1 (2008-2009)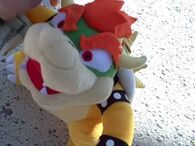 Episodes
Season 2 (2009-2012)
Episodes
Season 3 (2014)
A New Beginning: In this anticipated third-season premiere, Mario is in an alternate dimension where everything is reversed. He sees that everyone's persona is wrong: Toad has a deep voice and sings country music, Shrek likes green peas instead of cheesecake and he takes pees instead of craps, Black Yoshi is white and likes Animal Crossing on the Wii, Mama Luigi is smart, and Bowser is working for Chef Pee Pee, as Chef Pee Pee watches Harleyyy and friends June 20, 2014
Diverse Dimensions: Mario travels past random dimensions and encounters various characters, such as Charleyyy, SpongeBob, and Dora before having his remote stolen by Donkey Kong and his pants stolen by Diddy Kong. Then he travels into another dimension where Toad is instead wearing the pants, and he needs a Twinkie so Mario can have his pants back. August 17, 2014
Real Life Style: Mario is in a dimension as a baby, then he enters a real life dimension, which is the main point of this episode. At the end, Mama Luigi's alive and then Bowser takes Mario's hat. November 10, 2014.
Trivia
The series featured a large range of custom-based characters, some from other movies, TV shows and other related characters that had appearances throughout the show so far.
Unlike the later series SML Movies,this series is actually related to the video game series it was based on
Season 2 was originally going to have 12 episodes, but Episode 12 was later canceled with it's plot weaved into Episode 11. Episode 12 was mentioned in a SuperLuigiLogan video in an update about changes within the second series.
The series exists in its own continuity, explaining why events of the series are not usually referred to in SML Movies and Shorts. This would actually explain a few things, such as:

It has been confirmed by Bowser Junior that Bowser is his biological father since in Bowser Junior's Painting, he said that his father was pregnant for him. While in this series, Peach was the mother, while Mario was the ex father, while Bowser is just his adoptive father.
According to "Jeffy's New Toy!", Mama Luigi is alive. However, he died in the series.
Bowser referred Peach as Mario's wife in the final episode of season 2, all though they divorced each other in canon.

However, several of the original movies and shorts took place within this continuity.
In the "No Crust!", at the end Logan told us that he is bringing back Mario and Luigi's Stupid and Dumb Adventures, though he has said this multiple times, yet still hasn't brought it back, so it's unknown when or if. According to Zeke on a video on his channel, when he visited Logan for a week, he and Logan tried to do a remake of Mario and Luigi's Stupid and Dumb Adventures, but Zeke said it didn't work out for them. This effectively killed off any attempt to revive the series as Logan hasn't made any announcements since. He and Zeke later decided to work on The SuperMarioLogan Movie! and Toad's Mistake! remake.

On May 12th 2020, Logan confirmed on Lance's channel that the series was not going to be continued or rebooted because too much time has passed since the last episode and because Logan has moved to different locations such as the apartment and the new house. There are currently no plans by Logan to revive or reboot the series.
Polls have been archived. See here for poll archive.
Community content is available under
CC-BY-SA
unless otherwise noted.