Wiki Targeted (Entertainment)
Play Sound
Please note the following:

This article may contain language that may be offensive to some users.

If you want see the episode see Mama Luigi
This article is about the character Mama Luigi. You may be looking for Luigi.
Mama Luigi was a clone of Luigi and an early-generation character from the SuperMarioLogan series, serving as the deuteragonist of the series before his death in Mario and Luigi's stupid and dumb adventures spin-off and his disappearance in the main series. He was the deuteragonist in the first season and was the main antagonist of Toad's Mistake (2009), the first video in the Toad's Mistake series, and its 2017 remake. He was labeled as a retarded clone of Mario's brother, Luigi.
Compared to Luigi, he was slightly taller, had more brownish colored hair, and very unintelligent in general. He was known for his obnoxious laugh, and he also liked using a giant marker as a melee weapon.
Although his thought process remains unknown, he has a history of violence, such as vengeance when he failed in winning The Main Character Judging contest, when he kidnapped, abused, and assaulted Mario's true brother, Luigi and also kept it a secret until revealed in the second season of Mario and Luigi's Stupid and Dumb Adventures. He also assaulted and murdered Toad by putting him in the microwave because he earlier touched his nickel in Toad's Mistake.
Mama Luigi died in The Loss of a Retard, due to his voice actor, Zeke, having to move away with his brother Luke to Colorado. He was briefly revived in The Final Battle, but then died again with Bowser. After his death in the premiere of the second season of Mario and Luigi's Stupid and Dumb Adventures, he was resurrected as a zombie and he died again after a Mario shot him. He reappears as a ghost in the Luigi's Mansion series.
The death of Mama Luigi upset many fans, as many had loved the character for his humor. Some fans went as far as to unsubscribe from Logan, causing Logan to leave YouTube for a while. In the season two finale he was voiced by Chris Netherton.
Plush
This version of the Luigi plush is from the toy company Kellytoy. The plush itself is often used in plush collections, and can go for high prices on websites like eBay.
Personality
Mama Luigi's personality tends to be a mixed bag.
He is shown to be very unintelligent. Aside from this, he is very nice and has very few enemies.
Although he is shown to be an absolute ditz and regarded as a retard, Mama Luigi has shown to be rather charismatic in an incredibly wacky way, coupled with his jokes and insane eccentrics.
Weapons
The Magic Marker: Mama Luigi uses a blue marker to "draw mustaches" on people's faces in a fight.
Crowbar: Mama Luigi makes someone fall and smashes their head with a crowbar, as seen in Toad's Mistake!
Talents
Mama Luigi possesses a few talents that, arguably, compensate for his unintelligence.
Fighting: Mama Luigi can hold his own in a fight. He nearly took down Bowser without the magic marker and beat him when he had magic powers with ease. He also beat up Luigi and Toad with little to no effort.
Stalling: Mama Luigi can drag on a fight for hours.
Video Games: Mama Luigi is skilled in the game Super Mario Sluggers
Smarts(?): Although he is shown to be very unintelligent, there have been instances where he may be smarter than he shows. For example, he was able to secretly beat up Luigi during game reviews without Mario's knowledge.
Yo Mama jokes.
The Force: Mama Luigi used the Force to get the magic marker.
Endurance: Mama Luigi has survived things that would kill other people.
Singing: Mama Luigi sang "If I Were A Boy" perfectly (although he may have been lip syncing).
Bravery: Mama Luigi has not been afraid. He charged at Bowser when he had a gun. And all Luigi had was a bomb on his chest.
Murdering: Mama Luigi has killed Toad because he touched his nickel.
Mario and Luigi's stupid and dumb adventures
In the first season, while Mama Luigi is supposed to be the deuteragonist, it is arguable he was the real main character because he took down Bowser and started the whole adventure. However, it turned out he was the tertiary antagonist as well, having kidnapped the real Luigi and replaced him, revealing that several random things he had done in videos had actually been him hurting Luigi. Afterward, he had imprisoned Luigi in a cocoon-like sack, in order to, as he put it, "turn into a pretty butterfly". Mario, Luigi, and Peach all went to court in order to bring justice to Mama Luigi's (stupid) crimes. However, the trial turned out to be a complete waste of time, with Toad being Mama Luigi's lawyer, Judge Officer Goodman being easily gullible, as well as Yoshi defending him by pointing out the good he had done (i.e. defeating Bowser and saving Peach). In spite of this, Mama Luigi was given a day in prison for kidnapping, but it was more of a reward than a punishment, as Bubbles was his college roommate and now cellmate. After the second season, Mario took the mantle of the main character, due to the death of Mama Luigi.
In season 3, Mario goes through many dimensions and finds a smart Mama Luigi. With his help, he travels to another dimension. The real Mama Luigi was revived and made his comeback when Mario returns to the right dimension in the third episode.
Relationships
Mario
Mama Luigi considered Mario to be his brother (even though he technically does share DNA). Although they have opposite personalities, they act as each other's foils, smart and cool. Mario, by far, was the saddest about his death. Although Mama Luigi does some stupid and smart stuff, he is well-intent on helping Mario, such as when he started the adventure by paying Bowser to get Peach. Another example was when he bought a Nintendo DSi for Mario to make him happy for his success.
Bowser
Bowser is Mama Luigi's worst enemy. Mama Luigi is known as the only one who can beat Bowser.
Yoshi
Yoshi loves Mama Luigi, and saw him as a guardian and role model. In turn, Mama Luigi saw him as a pet and friend. Yoshi was one of the saddest at the death of Mama Luigi.
Luigi
Mama Luigi and Luigi are considered enemies, although later in the season he is still mad at the former for kidnapping him.
Mama Luigi alterations
Zombie Mama Luigi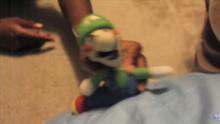 Bowser made Zombie Mama Luigi to kill Mario even though Mario killed him to protect himself.
Alternate Mama Luigi
When season two ended, Mario thought he went back in time. But he went in the wrong portal into a place where everything was retarded and backward. This meant there was an Alternate Mama Luigi, so Mario found him and he helped Mario start his journey. Unlike Mama Luigi back in Mario's dimension, this version is highly intelligent.
Dream Mama Luigi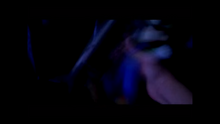 In Mario's Nightmare, Dream Mario is antagonized and killed by Dream Mama Luigi.
Ghost Mama Luigi
In Luigi's Mansion Episode 4, Ghost Mama Luigi scares Black Yoshi. In Luigi's Mansion Episode 5, Ghost Mama Luigi steals the Poltergust 5000 and runs out of the door. In Luigi's Mansion Episode 6, Ghost Mama Luigi is seen with the Poltergust 5000, Luigi touches Ghost Mama Luigi's nickel and Ghost Mama Luigi gets angry and starts attacking Luigi.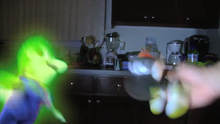 Songs
The DSI
If I Were A Boy
The Krusty Krab Pizza (from Mario and Luigi's Stupid and Dumb Adventures)
Quotes
Trivia
Mama Luigi returned in the Toad's Mistake! remake when Zeke, his original voice actor, visited Logan for a short time. 
The SuperMarioLogan Movie! is set to be his final appearance, and Zeke's final time portraying him.

However, as of 2021, the film status remains unknown.

It's unknown how Mama Luigi attended college with Bubbles though it's possible he has some of Luigi's past memories inside his mind and Luigi was actually roommates with Bubbles
In a video on his channel, Zeke confirmed that the SuperMarioLogan Movie is Mama Luigi's final appearance for good, because he is done with SML, but will still support Logan and SML.
Mama Luigi and Rosalina are the only characters whose removal from the series was due to their voice actors becoming unavailable for filming. All other characters were recast once their voice actor became unavailable or were removed due to the popularity of Jeffy and Bowser Junior.
Though most characters have died at least once, they are revived in the next video; Mama Luigi is one of the first few characters (and the only major character) to die and stay dead.
Like Brooklyn T. Guy, Mama Luigi is one of the few characters who has done a Let's Play, in Mama Luigi's case it is QWOP.

On top of this, he is the only character to play a video game on a channel not owned by Logan Thirtyacre.

When Logan killed off Mama Luigi, many people unsubscribed, leading Logan to quit YouTube for a while.
Mama Luigi is named after the series finale of Super Mario World, a cartoon produced by DiC Entertainment, which was a popular internet meme during the late-2000s, featured in many YouTube Poops.
The plush used for Mama Luigi is the Kellytoy Luigi Plush, which is incredibly hard to find.
In Jeffy's New Toy, you can see an email from Mama Luigi to Mario asking him when he wants his scenes recorded, possibly hinting at SuperMarioLogan: The Movie.
Mama Luigi is apparently allergic to birds. This is stated in episode 6 of Season 1 of Mario and Luigi's stupid and dumb adventures.
As Mama Luigi is a clone of Luigi, he has the same blood as Luigi, and therefore is a member of Mario's Family.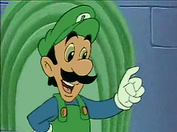 Likes and Dislikes
Likes
Making obnoxious noises
Being Stupid
The "If I Were A Boy" Song
His Nickel
His Magic Marker
Drawing "Mustaches" on people's faces.
Rapping
The Muffin Man
Beating people with pillowcases filled with bars of soap.
Torturing Toad
Mario (former best friend)
Bowser Junior (sometimes)
Dislikes
Poll
Polls have been archived. See here for poll archive.
Community content is available under
CC-BY-SA
unless otherwise noted.