Please note the following:

This page needs to be cleaned up in order to follow SuperMarioLogan Wiki's Manual of Style. You can help the wiki by cleaning up this page.

This article may contain language that may be offensive to some users.

Main
Ulysses Lovell Stanton, Jr., known by his middle name, Lovell, his artist name, KingShredda, or his Instagram username LordShredda, or Lord Petty as some fans call him, is a puppeteer/plusheteer and voice actor, doing these roles in SuperMarioLogan's plush videos.
In Draw My Life, Logan says he met Lovell in his reading class of his sophomore year of high school. Logan liked Lovell's humor, and they became friends. Logan thought Lovell would be a great addition to the cast, and so he hired him. Since then, Lovell has helped Logan with his videos, and voiced several characters, most notably Bowser, Chef Pee Pee, and Joseph. Lovell is also a rapper, and makes rap songs on his YouTube channel, KINGShreddaTV.
Likes & Dislikes
Likes
Logan and his crew
Instagram Live (such as. making too much stories and stuff)
Smoking Marijuana (Weed)
Making Jokes
Live Streaming
likes to Jump to Conclusions
Anime (sometimes)
Current New Fans (sometimes, not so much)
Vlogging on instagram
memes
Money
Twitch
Dislikes
CDusk (according to this video: https://www.youtube.com/watch?v=EBm4KPwOZvc&t=2351s)
Elaina Keyes (formerly)
GameCubeDude (currently known as Siejax)[a.k.a Luke Noonan]
Reactors
Being Called "Ulysses"
Being arrested
Being an inmate
Being in jail
The Jimenez family
Criticisms
His Haters
Opinions (sometimes. whether he agree or disagree)
Other People or other Fans who making Rant videos about sml videos, himself, Lance, Logan and Logan's SML Channels. ETC.
SMLArchive[or SML Are-Chive as he butchered the name: https://www.youtube.com/watch?v=3l7hkXgSlJc]
dabhdude (for calling dabhdude a "Clout Chaser" according to CorsonDrax. Lovell is not a Fan of Dabhdude and lovell thinks dab is annoying and wants to be friends just to get attention or made fun of his channel just like logan. well sometimes. but still. lovell truly dislikes dabhdude specifically and tries to taunting him or calling him out according to Corson)
SML Critics[a.k.a True Fans/Old fans who supports lovell but lovell sometimes betrays them.]
Other SML Fans (a.k.a his true fans such as kids or the same age as him. lovell apparently bullies kids or calling out by saying his other fans on instagram "Haters" or fake fans according to dabhdude's rant video on lovell. "The Lovell Rant".)
Interviews (he sometimes refused to ask some few questions or sometimes he making stories that doesn't make no sense. specifically?)
EDP445 (lovell swooped in and trying to defending Logan over a Collaboration, tries to Called out the Promise that logan kept for edp and lovell refused EDP445 to joined in the Cast as a Crossover video and never promised EDP to be in the Video for $5000 dollars per month and refused the offer.)
Character Roles
Lovell is one of(if not) the most notable crew members when it comes to Character Roles as he has voiced a portion of main characters or characters with recurring roles. He also played characters that is with playing as himself as opposed to a plush or puppet.
YouTube Channels
KINGShreddaTV (or LilShreddaTV): Unlike the other YouTube Channels connected to SuperMarioLogan, this one has almost nothing to do with it. The closest it is to SML is when Logan assisted Lovell in the cinnamon challenge. Lovell uses this channel to mainly upload his music videos or video random things he does in his day. Confirmed by Lovell to no longer be used on SMLLovellTV ("nahhhh on this account, the last one was KING Shredda - Under Contract....its on this account" https://www.youtube.com/watch?v=uJIkiVUzOv8 dead link)
Lovell: Lovell used this channel to react to and give behind the scenes commentary on SML videos. It was terminated on December 7, 2018, due to multiple third party claims of copyright infringement.
Songs
As King Shredda:
Black Coffee
Chemistry (Remix)
Dead Presidents
Dear Suzie
Do a Trick
Exposed
Extra, Extra
Fair Warning
Fire the Bud up
For The Glory
Get Nasty!
Get Wild
House Party
I'm All In
Ima Boss
Ima Pro
In My Zone
I Want It All
MOE
Money, Hoes, Cars, Clothes
Monster
Overdose
Potential
Rollin' Heavy
Searching
Summer
Swagga On Point
Talk To Me
The Storm
Til Infinity
Say Yeah
As Toad, Ray Cheesy and Bubbles
Bed Bugs
Bed Squeak
Brush Your Teeth
Freeze Tag
Hyped Up On Sugar
I Gotta Pee
I'm A Star
Milk and Cookies
Party in The Tub
Patty Cake
Pepperoni Pizza
Pink Escalade
Playground
Toad is Cool
Vroom Vroom
Controversy
Lovell's image has been a mixed reception by all fans alike, mainly due to his actions he has done outside of the camera. Lovell has a known criminal history. On January 17, 2017, Lovell was arrested for possession of drugs (marijuana) in his vehicle. On December 10, 2017, Lovell was arrested for DUI (driving under the influence; while drunk) and was charged with driving while intoxicated.
Other things Lovell has done in the past, like had previously bullied and harassed kids on Instagram (some of the victims were actually fans), rear-ended Chilly's vehicle (2017 Blue Chevrolet Camaro), and more recent, has pulled out a suicide stunt just for the sake of promoting his new music video, have all had an effect on Lovell's portrayal.
On July 2017, Chilly uploaded a video onto her channel with Logan explaining what has been going on with Lovell. He explained that Lovell had been dealing with serious issues and needed to get help; which heavily implied that Lovell went to rehab, most likely for his drug addiction. This was not long after the recent drama with GameCubeDude300, which resulted in controversy and hatred towards Lovell. This video was deleted for unknown reasons. Lovell did not appear in any SML videos until mid-August 2017.
On December 31, 2017, Lovell stated on Instagram that he was going to leave SuperMarioLogan because Logan would not answer his calls that day, causing him to think he was fired. Logan readdressed this issue later that day on his Instagram page, saying that he doesn't know what Lovell is thinking and he needs to cut the drama. The drama ended the next day with Logan and Lovell meeting up again.
On a dabhdude livestream, Zeke, former member of the cast, said that Lovell's arrogant behavior between members of the cast caused Anthony and Elaina to disclose information about his possession of marijuana to authorities. This caused Lovell to be taken into custody.
Lovell apparently bullies kids or anyone in the community for calling out by saying his other fans, kids or supports on instagram are "Haters" or fake fans according to dabhdude's rant video on lovell. he states that lovell is acted very immature and then he is threatened to cyberbullies anyone online: https://www.youtube.com/watch?v=AucMCHglSP0
he also saw a video on EDP445's channel on October 14, 2018.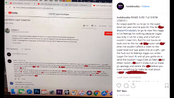 lovell tries to defending Logan then he tries to Called out these Promises and Lovell tries refused logan to never bring EDP445 to joined in the SML Cast as a Collaboration and cancelled the Offer to never promised EDP to be in the Video for $5000 per month. according to dabhdude's Video "SML 2018 - A summary of the Year". lovell mocked EDP and posted some troll comments on edp's video and then lovell immediately reported edp445's video and his channel down as well and then lovell called edp some bad names on instagram just like he harasses gamecubedude:
https://www.youtube.com/watch?v=VyrjNwzoMpw&t=3s
in LuigiChannel50's Live stream[ft. CorsonDrax & Random Number]: https://www.youtube.com/watch?v=0WvnvcJWG3w. Corson Explains why Lovell is secretly Hates dabhdude by saying he is a "Clout Chaser" for no good apparent reasons?, according to corsondrax. he talk to lovell on his instagram account and they both talk about lovell's thoughts or opinions about dabhdude and then lovell was laughed and tries to mocking dab. he wasn't a fan of dabhdude and then he told corson while lovell was laughing in front of him on instagram and then insults dab, taunting and slandered by calling him a *Clout Chaser*. the reason why lovell is not a fan of dabhdude or even why he dislikes dab. is it because lovell thinks that dabhdude is being a bit annoying and he thinks that dab making too much nonsense about sml in dab's channel and that's why he hates any of dab's criticisms or opinions that he disagreed and tries to avoiding any excuses about sml's content isn't looking good in dab's opinion. so that's why corsondrax explains why lovell isn't truly a fan of dabhdude and why he disliked him and his sml related channel or reactions or Rants, specifically? and lovell truly cannot handle any criticisms or opinions, whether Lovell agree or disagree. he sometimes agree but sometimes he changes his mind and decided to disagreed and disliked other people's opinions or criticisms just to called out or avoiding some people who making a rant/criticism videos about himself, logan, lance or sml's content. etc.
Trivia
Lovell had stated in a reaction video of his channel that Bowser reminds him of his own father.
In Logan and Lovell try Macaroni Milkshake, Lovell has stated he does not like Macaroni and Cheese.
Lovell has done the most SLL Taste Tests out of any cast member.
Lovell's favorite basketball teams are the Miami Heat, Chicago Bulls, Washington Wizards and the Cleveland Cavaliers.
He is left-handed.
Lovell's favorite NFL football team is the Indianapolis Colts.
According to Logan's Draw My Life video, Logan was looking for a new voice actor after Luke and Zeke moved to Colorado. So when Lovell first appeared in late 2010, he was hired as the replacement for Zeke. Same goes with Chris when he joined in mid-2014.
On an SML Archive video, it is known that Lovell isn't a fan of Anthony Miller or Elaina Keyes.
On a Chilly vlog, Logan said that Lovell won't do his characters for about a month until the end of August 2017 the reason has been unknown at this time. This delayed The SuperMarioLogan Movie! Lovell has since returned to the cast.
In Bowser Goes To The Movies!, after Charleyyy and Friends: The Movie is over, Lovell's name is put in the credits for literally everything.
He usually likes gardening on his spare time and mostly gardens peaches.
His Favorite food is chicken and dumplings, and his favorite fruit is strawberries.
He is pretty talented when playing the piano.
He plays the most amount of real life human characters in the show.
He mostly plays the African-American characters.
Lovell suffered acute kidney failure on November 1, 2018, and has been in the hospital since but was eventually released two weeks later.
Lovell had made a suicide stunt in order to promote a song.
As of 2020, he and Elaina Keyes are no longer enemies and they became best friends.
Criminal Record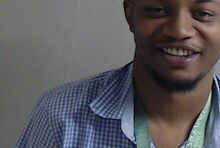 On January 17, 2017, Lovell was arrested for possession of marijuana (which is illegal in Florida), but was bailed out the next day.

Reportedly, Elaina Keyes and Anthony Miller ratted him out, which is why Lovell despises them, although he doesn't despise Elaina anymore as of 2020.
However, he still despises Anthony.

On December 10th, 2017, Lovell was arrested for driving under the influence (meaning driving while drunk) at approximately 5:41 PM.

It is currently unknown what time he was bailed out.
External links
Poll
Do you like Lovell as an actor?
Do you like Lovell in person?
Community content is available under
CC-BY-SA
unless otherwise noted.