Please note the following:

This article is a stub. Why don't you help The SuperMarioLogan Wiki by expanding it?

This article is in need of images. Please help the wiki by adding some.
Lovell (channel)
250

Channel Information
Genre:
Reactions
First Episode:
Cool Cody Reaction
Date Joined:
August 8, 2016
Date Shut Down:
December 7th, 2018
Subscribers:
53,000+ (updated May 17, 2017)
Schedule:
Random
Status:
Terminated
Channel Trailer
Most Viewed Video
Lovell was a channel run by Lovell Stanton where he did SML reactions and reviews. His channel was deleted on December 7, 2018, due to copyright infringement claims.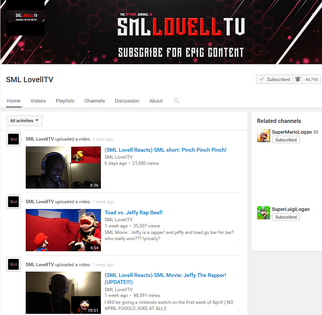 Videos
Videos by Lovell
Cool Cody Reaction
Inside Jeffy Reaction
Netflix and Kill Reaction
Root Beer Reaction
Chef Pee Pee The Robot Reaction
The Love Potion Reaction
Joseph Moves In Reaction
Jeffy Gets Stung By A Bee Reaction
Toad compilation
Toad reacts to Milk and Cookies Music Video
Toad reacts to Bowser's Cookies
Nerd and Bullies Reaction
King Shredda - Slow Motion
Bowser Junior Kinda Goes Camping Reaction
Nintendo Switch Reaction
Jeffy the Rapper Reaction
Toad vs. Jeffy Rap Beef!
Pinch! Pinch! Pinch! Reaction
Community content is available under
CC-BY-SA
unless otherwise noted.