Please note the following:

This article is a stub. Why don't you help The SuperMarioLogan Wiki by expanding it?
Main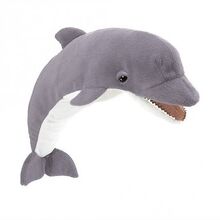 The Loan Dolphin is a minor character in SuperMarioLogan appearing as a loan trading hitman. He has a deep Brooklyn voice and is voiced by Chris Netherton (also known as Pablo Sanchez). He was first mentioned in Who Wants To Be A Millionaire? Episode 2 by Craig, and he threatened to break Craig's kneecaps if he doesn't get any money. The Loan Dolphin is often an antagonist and a very shady crLD, he also beat up Brooklyn T. Guy to make Chef Pee Pee win in The Bet!. He made his debut as the main antagonist of Black Yoshi's Money Problem!. He was also the main antagonist of The Hitman!, where he tried to kill Jeffy, but failed. He hides in a dark alley which is what he does most of the time.
Appearance
He's a dolphin that's a criminal loan shark who does very shady and secret jobs for people in exchange for money. The Loan Dolphin has a black leather jacket and sometimes smokes cigarettes. As well he tends to have his operations in the shadiest places, but are usually in the same building.
Likes and Dislikes
Likes
Dislikes
The law
Making clicking noises every time he gets angry, annoyed and agitated
People not listening to him
Trivia
In The Hitman!, he is considered as "America's Most Wanted".
He is often mistaken by Mario as a "loan shark".
He is a criminal boss of Brooklyn Guy and Simmons.
His favorite NFL team is the Miami Dolphins which was revealed in The Rings!.
References
Poll
Do you like Loan Dolphin?
Community content is available under
CC-BY-SA
unless otherwise noted.