Main
Lance Ashton Thirtyacre, better known as Lance, is an American actor, comedian, and personality; notably known for being a voice actor for SuperMarioLogan and best known for being the voice of Jeffy and Black Yoshi. He is Logan's older brother, as well as his business partner.
Lance is best known for his roles as Jeffy, Shrek, Goodman, and Black Yoshi, but has also voice acted many other characters on the channel. Lance has helped Logan all throughout his career; from coming up with ideas for videos to introducing plans for potentially new characters to the series.
He formerly owned 19Lance93 and CountryGirlOnCrack. He now runs his own vlog channel, known as Lance Thirtyacre.
His talents are paramount to the channel's success and although he has experienced the fame of YouTube, Lance remains humble and thankful to his fans.
Likes & Dislikes
Likes
Workout
His family
His brother Logan and his crew
helping Logan for making videos
Dislikes
Tom Brady (But he Voices The Plush of him for His Brother)
Biography
Lance Ashton Thirtyacre was born on September 23rd, 1993, to Kelly Thirtyacre and Jennifer Grant, in Pensacola, Florida. He is a year older than Logan. When his mother divorced Kelly over financial issues, she met a new man named Brian. Brian introduced Logan and Lance to Mario, and they thank him for that.
YouTube Channels
Vehicles
White 2012-2013 GMC Sierra 1500
Character Roles
Lance plays a large role in the voice cast voicing several main and recurring characters and has played the role with many one time characters.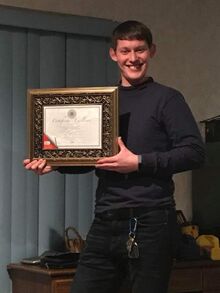 Trivia
Lance, along with Logan, is of Irish descent. This is because their biological father, Kelly, is of Irish heritage.
Lance fractured his brother Logan's skull with a baseball bat when Logan was 3.
Lance's favorite NFL football team is the Atlanta Falcons.
Lance voices Jeffy.
His Instagram is: @lancethirtyacre
According to Logan, Lance lives in the apartment that Logan used to live in. Therefore, Logan could possibly film a few things there.
According to Logan and Lance, a person hacked and deleted Lance's old Instagram account (Old Username: @lance_thirtyacre), losing every post that Lance made gone. Lance, later on, made a new Instagram account.
Despite his success on YouTube, Lance has been studying to become a medical doctor.
Lance is the oldest member of all the cast.

Lance actually holds a Bachelor's Degree in Medical Science.
It was revealed in his Meet The Cast video that he holds an associate degree in Nursing as well as a bachelor's degree in Healthcare Administration.

In early June 2017, Lance began dating a girl named Audrey, who is a nurse in the same studies as Lance.
Lance's height is revealed in his Meet the Cast, with him being 6'2".
He is ambidextrous, shown in Jeffy Gets Bullied! and Playtime 5 BTS.
Since Chilly broke up with Lance's brother Logan, Lance now does Behind the Scenes videos.
Poll
Community content is available under
CC-BY-SA
unless otherwise noted.