Julian Ezequiel Jiménez, simply known as JJ, is Chilly and Tito's younger brother. He is best known for appearing in Chilly's vlogs, as well as portraying characters in Tito's channel, Titototter. JJ is also a rap artist.
Back in 2017, he had moved into Logan's house with his siblings. He was one of the main production assistants in SuperMarioLogan but hasn't had any direct appearances yet. Over time, he had helped the cast with big projects, such as covering the house with tinfoil for Bowser Junior Goes To The Future!, and he was the one who did the scream for Areola in Jeffy's New Toy!.
When JJ was attending the high school Logan and the cast went to, he played soccer there. He is also very talented at basketball, and he has a passion for it. JJ had begun rapping and he had been working with several producers.
SuperMarioLogan 2
Before SuperMarioLogan 2 and beyond, JJ owned a YouTube channel called "Spooka" from June 2017 to July 2018. Sometime in July 2018, JJ gave his channel to Logan to help with the demonetization crisis. The channel then became known as SuperMarioLogan 2, which had videos from SuperMarioLogan and were basic reuploads, only with the swearing being censored. Because of this, many controversies spiked Logan, mainly due to the fact that many people thought this was a form of greed and money-craving.
Logan then realized that SuperMarioLogan 2 wasn't working out as planned because every video he uploaded on the channel would still get demonetized. Due to this, Logan decided to make a scheme and deleted all of his videos from SuperMarioLogan 2. He said SuperMarioLogan 2 was hacked and that everybody should unsubscribe. This wasn't true, instead, the channel was given back to JJ.
Career
On September 2018, the SuperMarioLogan 2 channel was given back to JJ. Over the course of time, JJ had developed an interest in rap music. JJ revamped the channel and uploaded his first songs onto the channel. They can be viewed here.
Since then, JJ has begun rapping and has been working with several producers.
External links
Trivia
JJ attended J.M Tate High School in Cantonment, Florida. This is the same high school that Logan, his siblings and the rest of the cast went to.
According to https://voterrecords.com/voter/83408959/julian-jimenez, JJ is affiliated with the Democratic Party.
JJ has stated on his Instagram that he is of Puerto Rican descent and he is proud to be so.
In one of the vlogs, JJ got blue dreadlocks. He said he wanted dreadlocks because he wanted to look more like XXXTentacion, a rapper who died.
In Titototter, he voices a few characters there such as an onion loving Monkey named "Monkey" and Silver the Hedgehog.
Somewhere prior to December 8, 2019, he has been freed.
Criminal Record
On May 7th, 2019, JJ was arrested for firing a weapon on open ground, alter identification of wrap (JJ did not own the firearm he discharged), and possession of marijuana. The bail amount counting up all three charges was $6,000, and he was bailed out on the same day.
On July 22, 2019, JJ was arrested for aggravated assault, battery, weapon offense, robbery, home-invasion robbery, possession of marijuana and intimidation. The bail amount counting up all seven charges result in $1,190,000. JJ is currently in jail and awaits trial. He was bailed out in an early day or 2020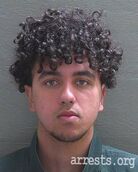 Sources:
http://escambiamugshots.com/ECC19JBN010053_jimenez-julian-ezequiel/
Poll
Do you like Julian Before?
Community content is available under
CC-BY-SA
unless otherwise noted.