"Jeffy Goes To Disney World!" is the 499th episode of SML Movies.
Synopsis
Jeffy goes to Disney World!
Plot
The video starts with Jackie Chu dismissing class the class for a spring break for 2 months because of the Coronavirus (Cough-Cough in the video). Cody shows Junior that he has hand sanitizer, which makes Junior tell everyone as they try to steal it from him.
At home, Rosalina and Mario are talking about that they are excited to tell Jeffy that they are going to Disney World for spring break. When Jeffy gets home, he says that he got in a fight but got hand sanitizer, which Mario says is super valuable and he could sell it for $1000. They then tell Jeffy they have a surprise, but Jeffy thinks that the surprise is that Rosalina's pregnant. They tell him they're going to Disney World, pulling out a Mickey Mouse plush, which shocks Jeffy so much, he freezes with his mouth wide open. So they call a doctor.
Brooklyn Guy shows up, and compares Jeffy's face to his face when he caught his wife cheating on him. He then notices the hand sanitizer, and offers $100 for it, but Mario wants $200, so he pays up. Jeffy then unfreezes, shouting "DISNEY WORLD?!?!" He gets excited and starts packing. Brooklyn Guy says that that is cute and his kids never say stuff like that to him. He then tries to put on Impractical Jokers, but the news plays and says that Disney World is closed next afternoon, due to the coronavirus. Brooklyn Guy looks for Impractical Jokers, while Mario and Rosalina worry about Jeffy finding out about not being able to go. Jeffy comes back with a Mickey costume, and Rosalina tells Jeffy they can't take him to Disney World, but Jeffy doesn't understand. Mario tells him they can't go because they're closing it, and Jeffy starts to cry. Mario suggests they take him tomorrow morning, but Rosalina worries about him getting sick, which Brooklyn guy agrees with, but he himself attempts to get the virus by licking their couch. Mario then gets the idea to put Jeffy in a Hazmat suit for the trip, which Brooklyn guy agrees to.
They put Jeffy into his Hazmat suit, and say he can still go on the trip, exciting him. Brooklyn Guy then recommends they bring hand sanitizer, and he'd sell his for $400, but Rosalina says they'll bring Clorox wipes instead. Before they go, Rosalina is still unsure if they should go, but Mario says it'll be fine. They then go on the trip.
Once at Disney World, they first see the castle, which according to Rosalina, was being sanitized so people don't get sick, but Jeffy thinks they're taking it down. Jeffy says he wants to ride the carousel, but Mario says he doesn't "Care-ousel about riding that ride." Rosalina then says "I want a divorce." They ride the carousel, and Rosalina wipes it down, not wanting to get sick, and as they go up and down, Jeffy asks why Mario is above or below him the whole time.
They then go to buy some Mickey ears, and Jeffy wants the "Up" themed balloons, then immediately says he doesn't like them, but Mario makes him buy them anyways, and Rosalina buys rose ears. They then go to see Mickey Mouse, getting Jeffy super excited, but they quickly leave after shaking his hand.
They then ride the Buzz Lightyear ride, but Rosalina has to wipe down both laser guns. Jeffy scores 54000 points, beating Mario's 1500. They then ride the spinning teacups, which Rosalina cleans as they spin, and Jeffy begins to throw up as she does so. They get off so Jeffy can throw up in a bush, but he just makes weird noises at it. They then go on the Dumbo ride, which Rosalina decides not to go on after the teacups. Jeffy goes onto the ride with Mario, calling Dumbo "Mr. Moose", and gets scared at how high they are. Jeffy screamed and cried in terror just like Mario. They get off the ride, then Jeffy started crying after the Dumbo ride, Rosalina, Mario is disappointed in him. Finally, Mario and Jeffy are ready to ride Splash Mountain.
Jeffy calls Splash Mountain a ride where you go into a poop and go down the toilet, but Mario doesn't want to ride it because of the Giant drop. Rosalina has him go on with Jeffy anyways, and he freaks out at the big drop. After they get off Rosalina wipes them down, and they decide to try and go on Space Mountain, but a cast member tells them it was time to leave. Jeffy begins to cry saying he wanted to go on Space Mountain, but Mario says it was only for astronauts. Jeffy still wanted to go back on Splash Mountain, so Mario suggests he pretends he's on it by being in the bath. Rosalina is upset by Jeffy's crying, but Mario says he at least got to got to Disney World before it closed. Then they find Jeffy making his own Splash Mountain, and he rides down a skateboard, into a pool before Jeffy drowned himself.
Characters
Trivia
This is the 4th video to be filmed at Disney World.
This marks as Cody's last appearance for a while due to the cough cough. He appears on video calls in later episodes.
In the beginning, Jackie Chu made a Shrek reference, saying "Some of you may die, but it's a sacrifice I am willing to make."
This is Brooklyn T. Guy's 5th appearance in a row, but this time as a minor character.
Jeffy's Hazmat suit was originally going to be blue.
This is one of the few times Jeffy does not throw a tantrum after not being allowed to do something. Instead, he cries.
Running gags:

Rosalina cleaning every ride they went on to prevent Mario and Jeffy from getting the coronavirus.

This is Rosalina's first appearance in 2020.
It is also her first appearance since her "return" in "Rich Mario!".
In Lance's channel there was a two-part vlog for going to Disney World.
Errors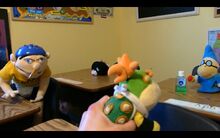 Elaina's face can be seen holding Bully Bill in the school scene.
Jackie Chu has the coronavirus again, despite him recovering.

It is possible that he was only wearing the medical mask to protect him from getting sick again and wasn't actually sick with coronavirus, however, those masks are made for people who already have the coronavirus, and not for people trying to protect themselves from it.

It is unknown why Jeffy still believes in Disney World, as in "Jeffy's Birthday Trip!", Mario said that the castle was replaced with the water fountain, but in this episode, he sees the castle. It could be that Jeffy now understood that the moment from the said episode was all a lie, or he's just being ignorant.
Poll
Did you like "Jeffy Goes To Disney World!"?
Community content is available under
CC-BY-SA
unless otherwise noted.