"Jeffy Gets Help!" is the 343rd episode of SML Movies.
Synopsis
Jeffy is acting really bad, so Mario wants to get him some help!
Plot
The video starts with Jeffy asking Mario if he can watch SpongeBob. Mario says no, Jeffy gets mad because he got Patrick glasses, and Mario tells him to go to bed. Jeffy starts throwing a temper tantrum, and Mario finally allows Jeffy to watch SpongeBob.
Mario then fumes and says "This is ridiculous! Every time Jeffy wants something and I tell him no, he throws a temper tantrum and gets it anyways" Rosalina then suggests that they should put Jeffy on medicine.
The next scene begins with the doctor (Brooklyn T. Guy) coming in and Mario explaining why they called him. The doctor said that he'll prescribe him medicine. He then says that are side-effects that might make him angry. Jeffy takes the medicine and Mario tells him to go play.
Angry Jeffy is playing with legos and starts trashing the room, much to Bowser Junior's confusion. He enters the living room with thick eyebrows and starts cussing out Mario and Rosalina. Mario decides to call the doctor and change his medicine. The doctor prescribes his new medicine and says that the side-effects might make him depressed. After Angry Jeffy took the medicine, he said that he was depressed and wanted to die. Mario disagrees and says that he's fine, and prefers Jeffy that way. Rosalina tells Mario to call the doctor anyway.
The doctor has new medicine and says that it could cause hallucinations. Classic Jeffy takes the medicine and goes into his room. After that, Mario and Rosalina go into his room to check on him, and Jeffy freaks out and screams "YOU STAY AWAY FROM ME MR. HIPPO AND MR. WHALE!". They call the doctor over again and the doctor says that the entire time the medicine was really tic-tacs and the side effects were caused because of Jeffy being allergic to tic-tacs.
Characters
Trivia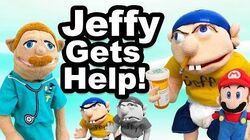 Its plot is similar to the AnimatedJames music video "Winter's F*cked Up" because of having a character cuss constantly for its purpose.
The video got age restricted in an hour after being uploaded because of the appearance of the medicine bottle in the thumbnail and medicine is counted as a deadly thing or non-family friendly thing. Logan deleted and re-uploaded the video but this time he removed the bottle from the thumbnail.
As seen on Logan's Instagram, the video's alternate name is called "Jeffy's Medicine!" though it was like that to avoid age restriction.
This is the 5th video to get age-restricted. The other 4 being "The Secret Door" (behind the scenes), "Jeffy Loses His Pencil!","Happy Merry Christmas!" and "The Couch!".
This episode reveals that Jeffy is allergic to tic-tacs.
It is revealed Jeffy mistakes lions as hippos, camels as whales and chickens as penguins.

He also confuses Patrick Star for Squidward Tentacles.

The lion that Jeffy hallucinates is Leppy the Lion from Bowser Junior's Imaginary Friend!, the camel is the Hump Day Camel from "Bowser Junior's Lottery Ticket!", and the chicken is Tyreese from "Black Yoshi's Fried Chicken".
This is Brooklyn T. Guy's seventh appearance in a row.
The Depressed Jeffy puppet was used again in a Chilly vlog where he goes to the airport to fly to South Florida.
Errors
This is the second video labeled as an SML Movie, despite having the time range of an SML Short. The first being "Bowser Junior's Nerf Gun".
The reupload's description is currently simply "Jeffy jeffy jeffy jeffy".
Poll
Did you like "Jeffy Gets Help!"?
Community content is available under
CC-BY-SA
unless otherwise noted.