Please note the following:

This article may be disturbing to some users. If you think you might be disturbed, leave this page NOW!
"Jeffy's New Toy!" is the 296th episode of the SML Movies.
Synopsis
Jeffy gets a new toy!
Plot
Mario is checking his email and Jeffy wants to watch but Mario opens an email from Goodman and it is a porn video called "Ass Pounders 2" and Jeffy wants to watch it again. But his dad won't allow him to. All he saw was a butthole getting pounded by a pee pee.
Rosalina shows up and asks what they were doing and Mario lies about the video being a movie about 2 donkeys being hit by a car. Mario tells Jeffy if he shuts up, he will take him to Toys R Us and buy him a toy, and he does but Jeffy doesn't want any of the toys they have for sale, but he does finds a creepy doll on the shelf which doesn't belong to the store. Jeffy said if he didn't get the toy he will scream, so they bring it home.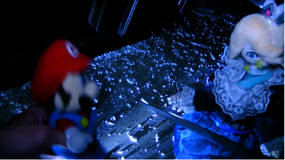 Jeffy talks to the doll and the said the doll wants to kill Mario. At night, the doll goes and attempts to stab Mario to death in the kitchen after a powercut and in the end, it's just Rosalina dressed up as the doll because Mario lied about Ass Pounders 2 (even though she lied to the police that Mario likes to beat Jeffy all the time) and then Jeffy asks Mario if they can head back to the store so he can actually get a toy he likes, but Mario refuses to do so. The video then ends with a jump scare.
Characters
Trivia
Mario's email messages read:

Mr. Goodman - Check out this video!
Black Yoshi - plz folk
Black Yoshi - Canz I borrowz 500 dollas?
Nintendo - Super Mario Sunshine 2 denied
Woody - When will I be in a video?
Hair Growth Potion! CLICK FOR MORE!
Black Yoshi - NEW CALL OF DOOTY COMING
Shrek - Can you bring me toilet paper???
Bowser - I kidnapped Peach, do you care?
I am a millionaire Nigerian Prince who needs help
Jeffy - What doing?
Rosalina - When are you going to propose?
Mama Luigi - When do you need my scenes?

Woody questioning when he will be in more videos references how fans have asked for Woody to appear in more videos and how he rarely makes appearances in videos.
The Nigerian Prince email is a reference to an infamous scam email.
Shrek asking for toilet paper references how he would call for Mario for toilet paper.
Bowser asking Mario if he cares if he kidnaps Peach references how Mario no longer cares about Peach.
Nintendo emailing Mario about Super Mario Sunshine 2 being denied references how several fans of the Mario franchise hope to see a sequel or remake of Super Mario Sunshine, but news of that happening has yet to come.
Mama Luigi asking for his scenes is a reference to The SuperMarioLogan Movie! and how Mama Luigi scenes needed to be filmed by the actor, Zeke.
The Hair Growth Potion ad is a reference to how Mario is a sad, balding old man and he is losing hair quickly.
Black Yoshi's messages reference his frequent demands for money when a new Call of Duty game comes out.

This was the first SML Video to come out in May 2017.
This episode marks the first and only appearance of Jeffy's doll, Areola.
The video was uploaded on Cinco de Mayo/Fifth of May.
"Areola" is a term referring to the pink-colored areas of human breasts. This is why Rosalina says the name sounds "familiar".
This video had emails from different people like Bowser, Woody, Black Yoshi, and even Mama Luigi.
This is the fifth video to be filmed in Toys R Us, the first is Bowser Junior's Summer Vacation, the second is Bowser Junior's Train Table!, the third is Bowser Junior Loses Thomas! and the fourth is The Christmas Special!
This is the sixth video to end in a jumpscare. The first being Mario's Nightmare, the second being Bowser Junior's Sleepover, the third being Cody's Sleepover, the fourth being Chef Pee Pee Quits! Part 5, and the fifth being Bowser Junior's 8th Birthday!.

This is also the second video to have a jumpscare as a still image, the first being Mario's Nightmare.
This is also the third video to have a jumpscare in the middle of the video, the first being Joseph's House! and the second being Jeffy's Flu Shot!.

This is, to date, the only video to have multiple jumpscares in the video.

This is even the second video to have a jumpscare that is not a reference to the Five Nights at Freddy's franchise, the first being Mario's Nightmare.
This could also be the last video with a jumpscare.

This is the first time Mario is shown to hold a grudge towards Big Hero 6, usually Bowser Junior hates it, but since Logan plays both characters, it makes sense for them to both hate it. 
Jeffy's thumbnail pose from Jeffy's Bathtime!, The Quiet Game!, and Jeffy Gets Stung By A Bee! is used.
The emails break the fourth wall as some mention about the people sending the messages saying things about the videos, like when they will return.
This episode is similar to Bowser Junior's Sleepover because Rosalina disguised herself like Chef Pee Pee did in the episode except he was disguised as Chica, they both were also scaring someone as part of the prank.
This is the third time that Brooklyn T. Guy is seen working in Toys R Us. 1st is Bowser Junior Loses Thomas!, the second being in The Christmas Special!
This is one of the few occurrence that Jeffy doesn't get upset when his request gets denied. Whereas in The Dead Body!, he f-bombs Mario. It's most likely because in that episode, Mario tried to offer him Green Beans.
This is one of the few videos that have jumpscares in the end as well as in the middle of the movie.
At the top of the screen of Mario's computer, it is shown that Mario is really using Chilly's email.
Errors
The description says Jeffy's while it should be Jeffy.
It's unknown why Jeffy wasn't afraid of Areola because it shows that he's afraid of certain things, it is possible he knew the doll would be just part of the prank or he saw it as a harmless toy.
Mama Luigi is dead, however, his message is seen when Mario is checking his email, implying that he may not be dead after all.
The video was intended to be uploaded on May 4, however, Logan uploaded it after 2 AM CDT (Time in Cantonment, FL) as this is midnight California time where YouTube is, so, therefore, it is May 5.
When Mario sees Areola through the office door, he runs and screams. His hat falls off, but then later reappears.
Jeffy is presumably not strong enough to carry Rosalina so it's unknown of how he can pick her up.
Part of Rosalina's dress can be seen if you look very closely at the scene were Areola is about to kill Mario before Rosalina takes the mask off.
When Mario watched the video that Goodman sent Mario, you can actually hear Donkeys braying in the video that he and Jeffy watched, thus making the lies useless.
The Baymax toy is away from the Big Hero 6 toys, but Logan may have gone to a section that sells Big Hero 6 toys and put it there for the video.
Poll
Do you like Jeffy's New Toy?
Community content is available under
CC-BY-SA
unless otherwise noted.