"Jeffy's Halloween!" is the 474th episode of SML Movies and the 2019 Halloween Special.
Synopsis
Jeffy passes out candy!
Plot
The episode begins with Jeffy showing up in his monkey costume for Halloween and demanding Mario to wear his booger costume. After the two of them start rapping because Mario's costume makes him look like a rapper, a news report shows up and Brooklyn T. Guy comes on saying that trick-or-treating is dangerous this year as the sweets are dangerous. Jeffy still wants to go trick-or-treating but Mario has better plans: Passing out candy corn to any trick-or-treaters coming to their house.
However, Jeffy doesn't like the candy corn and throws them in the trash. Thankfully, Mario stops him. Mario also has a huge sum of money in case Goodman came. The first trick-or-treaters come to Mario's house for candy, those being Judy and Tyrone, who is dressed up as a naughty nurse and a 'zebra', respectively. Jeffy at first hits them with a handful of candy corn before giving it to the couple in a gentle manner, but even they don't like it. Nevertheless, they leave the place saying that they don't like the world.
After Mario takes his booger costume off, Brooklyn Guy arrives dressed up as Mario. Jeffy didn't learn his lesson from last time and throws candy corn at him as well. Brooklyn Guy then notices that Mario's giving away candy corn, and quickly declines it. Brooklyn Guy applauds Mario for dressing up as his favourite video game character, too. Even though Mario tells him that he's the real Mario and the clothes he's wearing isn't a Halloween costume. But Brooklyn Guy ignores him and leaves.
Mario tells Jeffy to stop throwing the candy corn, but Jeffy then decides to go to the toilet. Black Yoshi then shows up as a seed in a watermelon, but Mario won't give him candy because he and Black Yoshi live in the same house. Mario gives Black Yoshi candy corn, but like the last three trick-or-treaters, he don't like it and instead wants money. Mario tells Black Yoshi that nobody gives out money on Halloween nor Call of Duty games or Call of Duty 'movies'. Mario tells Black Yoshi to go to another house, but Black Yoshi says he's on house arrest, prompting Mario to bring him inside.
Jeffy comes back saying that there's no toilet paper. And he still hasn't learned his lesson about not hitting people with candy corn. Mario needs the toilet, too so Jeffy had to deal with the candy. His next trick-or-treater is Patrick, dressed up as Spider-Man. Like the previous trick-or-treaters, Patrick doesn't like candy corn, but Jeffy gives him the money Mario was supposed to use on Goodman so he can buy some good candy.
Mario returns but discovers the money is missing. Jeffy reveals that 'Spider-Man' stole the money so he can get better money because candy corn is trash. Jeffy tries reassuring Mario by saying Goodman won't show up, except he's wrong. Mario starts panicking while Goodman kept ringing the doorbell. Mario finally decides to face Goodman, dressed up as The Cat in the Hat, while Jeffy hides. As usual, Goodman wants Mario's house payment, but he talks in rhymes, just like the Cat. Mario tells Goodman the truth and he'll find the person with the house payment money.
Mario then calls Jeffy saying that they're going outside to find the person that Jeffy gave Mario's house payment to. They find Patrick and persuades him to come into the car. But after Patrick refuses, Mario takes his bucket and drives back home.
He finds his house payment underneath Patrick's stash of 'good' candy and Goodman takes it and leaves with it and a candy bar. The doorbell rings again. Though this time, Patrick returns with Brooklyn Guy (who has changed back into his copy uniform for some reason). Brooklyn Guy asks Mario if he stole Patrick's candy. Mario denies it, but after that fails, he tells the Brooklyn Guy the truth that Jeffy gave away his house payment to Patrick, despite the fact that he should've asked Patrick for the money in the first place. Patrick then asks Mario to give him back his candy, but on his neck, which results in him choking to death. Brooklyn Guy then writes Mario a ticket for giving out candy corn.
Meanwhile, Junior, Cody, and Joseph are going out for Halloween. Junior is dressed up as a Poliwhirl, Cody is dressed up as Mojo Jojo and Joseph is 'Curious George'. They are ready to go trick-or-treating, but Cody then says he can't because somebody is putting thumbtacks on candy. So the trio decides that they're going to spend Halloween sitting around and not do any trick-or-treating.
Characters
Trivia
This is Brooklyn T. Guy's 24th appearance in a row, but as a minor character once again.
This is the last SML Movie of October 2019.
Brooklyn T. Guy breaks the fourth wall by saying he has no feet because he is a puppet.
This is the second time the word "Kidnap" is censored, the first being The Prank!
Cody said that someone was putting thumbtacks in candy. This is a reference to a popular urban legend where sick, twisted individuals put harmful objects such as razors in candy to hurt kids for their own sadistic pleasure, though the only confirmed incidents were merely pranks among friends and family.
List of Costumes in the video:

Mario - A Booger (Jeffy forced him)
Jeffy - Monkey (claims he was Mickey Mouse)
Tyrone - Zebra
Judy- "Naughty" Nurse
Black Yoshi- A seed of a Watermelon
Brooklyn Guy - Mario
Patrick - Spiderman without mask
Goodman - Cat in the Hat
Bowser Junior - "Poliwhirl" (Actually a Demon Costume)
Cody - Mojo Jojo
Joseph - A shirt that says "Curious George" on it (said to have been obtained at Goodwill)

Candy Corn is shown to be disliked by many in the SML universe in this video. With the Titototter video released the next day ("The Candy Problem!") shows that it is also "disliked" in that district (though only because Jet went trick-or-treating in a trailer park believing that rich people were too greedy to give out good candy).

it could be that Logan and some of his friends hate candy corn in real life.

This is one of the few videos that shows a news report without a news bar at the bottom.
This is a rare occasion where Mario was able to pay off his "house payment" with little issue, as well as the first time Goodman's threat was subdued, saying he would merely be "very angry" rather than threatening some outlandish physical harm or mere eviction.
Goodman's "Cat in the Hat" costume was recycled from Jackie Chu's costume from last year's Halloween special, The Costume Contest!.
This is one of the few SML Movies where Goodman is not the announcer in the news.
This video was uploaded 10 years after the first SML Halloween Special, Shrek's Costume.
The zebra costume was used previously in Jeffy's Dog! and Joseph's Mom!.
At 2:49 you can see a box of thumbtacks which means Brooklyn T. Guy put thumbtacks on candy on purpose.
Errors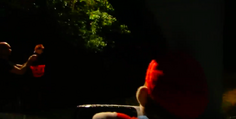 Jeffy's monkey costume in the video has a different face from the one in the thumbnail.
At 11:15, Chris' face can be seen.
Brooklyn T. Guy should have known Mario wasn't someone in a costume, because he went to his house before.

It is also possible that Brooklyn T. Guy was just messing with Mario or this was done for comedic purposes.

It is unknown how Mario knows who people are in costumes, as before he is seen to have bad eyes and easily mistake people's identities. It could be that he is able to know that it's a costume due to the fact that he himself is the real Mario and that people that dress like him is just someone in disguise.
Poll
Do you like "Jeffy's Halloween!"?
Community content is available under
CC-BY-SA
unless otherwise noted.