"Jeffy's Coma!" Is the 412th episode of SML Movies. 
Synopsis
Mario needs Shrek's help to save Jeffy!
Plot
Jeffy wants to ride his bike, but Mario says he has to wear his helmet on his head. After Jeffy is himself for a little while, he agrees to wear the helmet on his head.
Outside, Jeffy has is helmet around his waist, and begins to ride around the street. Meanwhile, Brooklyn Guy struggles to hit a baseball on a tee. He eventually hits it, and the ball whams into Jeffy, putting him into a coma.
Back inside, Brooklyn Guy (now dressed as a doctor) starting to lie about how a piano that fell from a plane crushed Jeffy like in a cartoon, causing him to go into a coma.
Mario wants to cure Jeffy's coma, But Brooklyn Guy says that the only way to do so is if someone in a coma breathes in the fumes of an ogres fart, but he says that'd be impossible since ogres are nearly extinct. But Mario says he knows an ogre and goes to confront him.
In the bathroom, Shrek struggles to fart. Mario comes in and needs him to fart in Jeffy's face. Shrek says his butt is like a mine; completely silent. Shrek gives some exposition that one food that will guarantee that Shrek farts after eating it; bean soup. So Mario knows exactly what to do; Find Chef Pee Pee.
In the kitchen, Chef Pee Pee makes an innuendo about some "wieners" that he wants to put in his mouth. Mario comes in brings Chef Pee Pee up to speed on the situation. He only agrees to make some bean soup when Mario bribes him with $100 to do so. He finishes it up and Mario takes a bowl of it to the red couch.
Shrek describes the power that the bean soup will have, and then eats it. It has no effect. Mario and Shrek are both disappointing, but Shrek gets an idea. He thinks there is some kind of "Super Bean" that will absolutely guarantee that he will fart. Mario goes back into the kitchen to tell Chef Pee Pee. 
Back in the kitchen, Chef Pee Pee is farting uncontrollably when Mario comes in. He tells him about this "Super Bean". Mario bribes Chef Pee Pee again with $500 to find it and make it into a bean soup. So Chef Pee Pee gets Bowser Junior and they get on a plane. 
Now in Chicago, Junior and Chef Pee Pee see a ginormous, metal, bean structure. The two try to push it, but to no avail. In, presumably a hotel room, Chef Pee Pee is pretty much hopeless until he gets another idea.  
He calls up Cody and the two make a deal. Cody will create a shrinking app on Chef Pee Pee's phone if Chef Pee Pee gives Cody 4 "GoGurts". Later, Junior and Chef Pee Pee use the app to shrink the metal bean, and the two head back to Florida. 
Chef Pee Pee puts the metal bean inside of the pot, but finds Chicago Guy at the front door because he got a report that the bean structure is missing. Chicago Guy eventually leaves after Chef Pee Pee makes up a couple of lies. 
After Chicago Guy leaves, Chef Pee Pee cooks up a new shiny bean soup, and Mario arrives and brings it to the game room. In the game room, Shrek scarfs down the shiny bean soup, and then begins to feel a huge fart coming on Mario runs away in horror. 
The episode abruptly ends with Shrek's fart destroying the whole Earth instead of saving Jeffy. 
Characters
Trivia
This is the only Shrek-centric video of 2018.
This is what Logan and Lovell filmed while they were in Chicago.
Brooklyn Guy is seen practicing T-Ball. He says in Bowser Junior's 7th Birthday! that he played t-ball when he was younger.
This is one of the few times where Jeffy is seen without his helmet on his head.
Jeffy goes into a coma and remains like that for the rest of the video.
This is one of the very few times in which Shrek eats something other than cheesecake.
Like in Jeffy Sleepwalks!, the thumbnail features Jeffy with his eyes closed.
Cody made a shrinking tool being Shrink App, Whereas he normally tend to use a shrink ray instead like in Picture Day!.
Because of the earth exploding, likely most(if not all) people in the video or not in the video have died.
Throughout the entire video when Jeffy gets into a coma, he doesn't talk.
This is the first time Jeffy says "NIN NAHT!".
Errors

Despite the title, Jeffy doesn't go into an actual coma. The title also is kind of misleading due to Jeffy not being in most of the video.
In the description, there is a typo where it says "Shrek'shelp." The space was accidentally excluded between "Shrek's" and "help".
When Chef Pee Pee tries to lift the bean, his arm rod bends.
When Chef Pee Pee is holding the bean, Logan's reflection can be seen.
For some reason Jeffy dies twice in the video cause he goes in a coma and he dies when the earth explodes.
After Chef Pee Pee shrinks the bean, Lovell's reflection can be seen.
Poll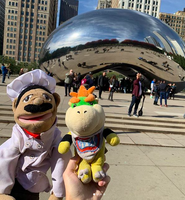 Did you like "Jeffy's Coma!"?
Community content is available under
CC-BY-SA
unless otherwise noted.