"Jeffy's Birthday Trip!" is the 459th episode of SML Movies.
Synopsis
It's Jeffy's 15th birthday!
Plot
Jeffy writes things on his list for his birthday, and his most important thing he wants to do for his birthday is go to Disney World, but he repeats his list saying Disney World. Mario ask Jeffy wants to do something else on his birthday but Jeffy cried due to his dad getting mad and calling Mario a bad daddy. Mario wishes there's a cheaper version of Disney World and watch an ad of Sam's Fun City instead of Disney World and he needed it in order to save his life. Mario called Jeffy for surprise on his birthday and the next day he takes him to a cheaper Disney World.
Mario and Jeffy arrived at Sam's Fun City, in which Jeffy thought it was Disney World. Though, Jeffy was wondering about where the people are at, and Mario lied to him by saying that he is a billionaire and that he rented this place just for them. However, in reality, it's just that people don't go to this park a lot. Jeffy wanted to go to the castle, but it wasn't there, so he asked Mario about it. Mario also lied by saying that Mickey Mouse had to sell the castle to receive money for expensive clothing, and it was replaced by the fountain, when in reality, the park never had a castle either.
What they have done first is ride on the giraffes. Jeffy enjoyed it, until he realized that the giraffes had poles sticking through their bodies, making Jeffy think they're dead.
Next, they rode to a spinning cart ride, though Jeffy wasn't supposed to go there, because it was a "big boy ride". Mario and Jeffy were presumably throwing up during the ride.
Afterwards, Jeffy wanted to ride on the kart. Mario did not want him to ride that either, only because he thought Jeffy was too young for it, but then Jeffy wanted to do it anyway, so they started driving. However, during the ride, Jeffy was crashing through the track walls often, making Mario upset and that he didn't want to see his son ride again.
Finally, Jeffy wanted to ride the ferris wheel. However, the problem is that Mario doesn't want to go there, mainly because he is afraid of heights. Moreover, since Jeffy nagged about going there, he decided to go there for his sake. While they were in the ride, they made it to the top of the ferris wheel, and got stuck there. Jeffy found a wasp nest and touched it, making Mario getting stung by these wasps multiple times in his face.
Mario hated the trip after the wasp attack, so he tried to cancel the rest of the birthday trip. However, Jeffy wanted to see Mickey Mouse very badly, but Mario doesn't want to because "he doesn't exist". Moreover, Jeffy started crying and yelling because he wanted to see Mickey Mouse, so Mario asked Brooklyn T. Guy what he could do. First, Brooklyn T. Guy got Boofy the Mouse as the park's mascot, so they used him as Jeffy's Mickey Mouse for his pleasure. However, Jeffy didn't like Boofy, and wanted to see the real Mickey Mouse, so Brooklyn T. guy had to wear a Mickey Mouse costume to portray Mickey Mouse and to make Jeffy satisfied.
Jeffy loved seeing the Mickey Mouse costume, thinking he is the original Mickey Mouse. So, Jeffy wanted to go back home to eat some cake with his father and Brooklyn T. Guy. Brooklyn T. Guy also said it was his birthday, so they sang happy birthday to Jeffy, but after the singing, Brooklyn T. Guy wanted for Mario and Jeffy to sing him happy birthday too, but since Mario declined, Brooklyn T. Guy takes off the mask and admitted he wasn't Mickey Mouse, then he said that Mickey Mouse was killed and used as a costume. Jeffy cried because Mickey Mouse wasn't real, and he wished to throw his cake as far as he can, and he did so, ending his birthday there.
Characters
Trivia
This is the second time Jeffy attempted to make himself barf, the first being in The Dead Body!.
This is the second time Mario tricked Jeffy into thinking he went to Disney World for his birthday. The first time being in Jeffy's Birthday!, where Mario took him to Chuck E. Cheese's.
Mario is shown to have Acrophobia (a fear of heights) in this video.
The Boofy the Moose mascot is actually Bullwinkle from the classic 1950's cartoon, Rocky and Bullwinkle.
This is the second time that Jeffy throws his cake at the wall, the first time being in Jeffy's Birthday Wish!.
The video got #3 on trending in gaming despite not being based around gaming.
Jeffy was somewhat more like how he was in earlier videos, such as how he was crying over small things.
This is the first time Jeffy goes to an amusement park. Coincidentally, this is also the first time Jeffy rides on attractions.
In the ferris wheel, Jeffy mentioned Yzma's quote "Pull the lever, Kronk!" from the 2000 Disney film, The Emperor's New Groove. Mario follows it up by saying "WRONG LEVER!" As they go up.
As of this video, Jeffy is 15, Hansel is 58, and Brooklyn T. Guy is 42.
They used Brooklyn T. Guy wearing a Mickey Mouse costume possibly because Mickey Mouse has been portrayed as a cocaine addict in his previous appearances, which is not family-friendly.
Another possible reason Mario could not take Jeffy to Disney World is that he would have to take Jeffy on a plane and Mario has a fear of flying.
This is the first Jeffy birthday special to be uploaded on the day of Jeffy's actual birth.
Errors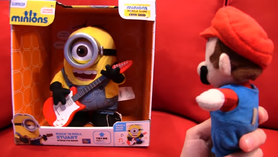 If Mario was trying to surprise Jeffy with the Minion playing a guitar for his birthday, then it wouldn't make sense for him to leave it on the couch where Jeffy could see it.
Jeffy once again mispronounces giraffe as "gi-da-raffe", despite the fact that in Black Yoshi's House Arrest!, Jeffy properly pronounced the word as "giraffe".
Brooklyn T. Guy said his birthday happened in Black Yoshi's Birthday!, though it could be because he was lying for $20.
Chilly can be seen in the background 7:33
This was all a lie and went to Sams becuase:
there is a castle and theres a fountain on the side of the castle
there is no Ferris wheel in the adjacent lands
Mickey Mouse Had Other Costumes
Poll
Do you like "Jeffy's Birthday Trip!"?
Community content is available under
CC-BY-SA
unless otherwise noted.