Please note the following:

This article is a stub. Why don't you help The SuperMarioLogan Wiki by expanding it!

"Jeffy's Big Mess!" is the 531st episode of SML Movies.
Synopsis
Jeffy makes a huge mess causing Mario to get payback!
Plot
The episode starts with Jeffy bouncing on a ball. Mario tells Jeffy to bounce in the hallway. Jeffy bounces down the stairs and crashes into a table full of vases.
When Mario heard that noise, he saw the broken glass, gets furious and is close to whipping Jeffy with a belt.
Then Mario pops Jeffy's sitting bounce ball and throws it behind the couch. Then Jeffy grabs out a knife and stabs the couch and he and Mario started arguing about how they never like each other as a family. Mario Suddenly Takes Jeffy's Diaper off. Causing Jeffy to be sad and Shout at Mario. Then Jeffy wished that he never been existed, so Mario wanted to teach Jeffy a lesson by faking his death to think that Jeffy thought he died.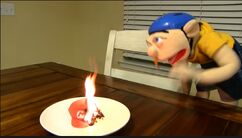 After a few minutes Jeffy wanted to get revenge on Mario by burning his hat. He then goes to try and distract Mario, not knowing that he was replaced with a toy skeleton. He (obviously) is able to get Mario's hat and burns it while singing "Happy Birthday."
He then goes to show Mario his burnt hat. Of course, Mario isn't there, and Jeffy thinks Mario is giving him the silent treatment. Junior then comes in the room. When Junior sees the skeleton, he freaks out and tells Jeffy that he's dead. After Jeffy is finally convinced that Mario is dead, Junior suggests that they should go and party.
In Junior and Chef Pee Pee's room, Jeffy and Junior are partying and singing when the doorbell rings. Junior goes and answers the door, and its Mr. Goodman wearing a girly and sissy bike helmet. Junior tells him that Mario is dead, so Mr. Goodman goes to sell the house, stating he already has a buyer. Junior goes back upstairs, and Jeffy gets really sad because he realizes that Mario is actually dead and never coming back.
Jeffy goes to the couch and calls the police. When Officer Top and Officer Bottom arrive, after about a minute they decide to leave for a few minutes. Jeffy cries, then scooter comes in and shows Jeffy his Pop Rocks candy, but Jeffy isn't amused, presumably cause he thinks Mario is dead. Jeffy tells Scooter to leave, and so he does. Then, Officer Top and Officer Bottom arrive again and conclude that its a toy skeleton and that it was just a prank.
Jeffy decides to get Mario back, so he takes another skeleton toy and puts his helmet on it. When Mario enters the room, he thinks that Jeffy died because he died. Jeffy comes back in and tells Mario that he did the exact same prank. Mario and Jeffy agree to never speak of it again. Then, Jeffy shows Mario his burnt hat. Mario is about to break Jeffy's helmet when the doorbell rings again. Mario answers it, and its Goodman telling Mr. Krabs about the house. Goodman thinks that Mario faked his death to skip his house payment, but Mario explains that he did it to teach Jeffy a lesson. Goodman demands Mario for his house payment, and the episode ends with Mario going to get his wallet.
Characters
Trivia
This is the last episode of July 2020.
This episode was uploaded 1 year after "Bowser Junior's Crazy Sleepover!", and 3 years after "Jeffy Has Hiccups!".
Mario says "Get your Butt" instead of "Get your Ass" to Avoid Demonetization.
This episode reveals that Mr. Goodman never learned how to ride a bike, so he has to use training wheels.
It's revealed that the reason why Goodman targets Mario for things like his house payments is that he is Goodman's favorite victim as he's famous and a mascot, but also to get revenge at him for cutting the couch in "The Koopalings! Part 2", even though he actually didn't do it.
Goodman asking Junior if there are Yoga Instructors in the party is a callback to "Mr. Goodman's Baby!".
It's implied that Goodman has sexual pleasure when he forces Mario to pay off his house.

It's also implied that Goodman is very attached to Mario which is why he was very depressed when he heard the news of Mario's supposed 'death'.

When Jeffy was talking about the weather, he was referring to Cloudy with a Chance of Meatballs, a 2009 film, as well as the 1978 book of the same name.
This is the first appearance of Officer Top and Officer Bottom.
This is one of the videos where Mario and Jeffy are at their angriest point.
Mario and Jeffy using skeletons to fake their deaths is similar to how Joseph's mother bought a skeleton to do the same in Joseph's Mom! and other videos before that in 2016.
Officer Top and Officer Bottom are most likely a replacement for Brooklyn T. Guy due to Chris refusing to come to Logan's house because of the cough cough.
This episode has more proof that Jeffy indeed does love Mario. Some other episodes with proof include "Jeffy's Foster Home!" and "Jeffy Breaks His Leg!"
This is the second time Jeffy is seen without his diaper, the first is Jeffy Goes to the Zoo!.
Errors
For some reason, Jeffy's ball is faced backwards.
Poll
Do you like "Jeffy's Big Mess!"?
Community content is available under
CC-BY-SA
unless otherwise noted.