Bowser Junior Goes To Military School!

A teaser of the movie from Cody's Revenge!.

Release date

February 19, 2016 - July 2, 2016

Channel

Previous series

Next series

Debut Episode(s)

Episodes

2

Screen format

16:9 HD

Created by

Running time

27 minutes (Episodes)
37 minutes (Debut Episodes)
1 hour and 4 minutes (Total)

Episodes

Logan Thirtyacre
Pablo Sanchez
Lance Thirtyacre
Lovell Stanton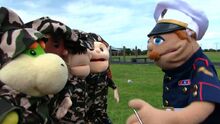 Bowser Junior Goes To Military School!
is the 15th 
SuperMarioLogan
 series, and the fifth special movie released by
SML
overall.
Main Plot
The series focuses on Bowser Junior going to military school, after he broke a table in Bowser Junior's Clown Car! and Mittens' cup of ashes in Cody's Revenge!.
Characters
Trivia
This is the third SML school series, and the first to be about military school, not regular school.
This is the sequel to Bowser Junior's Clown Car! and Cody's Revenge!.
Many fans have criticized Brooklyn T. Guy's behavior towards Junior.
It is unknown how Bowser Junior got his regular Thomas back in recent episodes, since Brooklyn T. Guy burned the original Thomas toy. (possibly one of the clones)
The costume Brooklyn T. Guy is wearing is the same one Worn in Jeffy's Drone!.
List of videos in the series
Community content is available under
CC-BY-SA
unless otherwise noted.