Please note the following:

This article may contain language that may be offensive to some users.
This article may be disturbing to some users. If you think you might be disturbed, leave this page NOW!
"Bowser's Mistake!" is the 391st episode of SML Movies. 
Synopsis
Bowser accidentally sends a bad picture to EVERYONE!
Plot
The video starts with Bowser crying on his bed due to him not having a girlfriend and that he's lonely. The TV broadcasts a commercial asking Bowser if he's lonely and if he's a turtle and it tells him to download Turtler.
Bowser gets amazed and decides to download it. He gets his phone and decides to find some turtles he can date. The app tells him to swipe right or left for if he likes it or not. He finds a turtle that is fat and swipes left, a bald one and swipes left again, one with a kid and swipes left again, he thinks the next one was male and swipes left again, he finds an emo one and swipes left again, he finds a redneck and swipes left again, he eventually found one that he really liked and swiped right and the app confirmed the one he will date. He then texts the turtle, and she responds, telling him to send a picture of an eggplant emoji. At first, Bowser is not sure what she means, but then he realizes that she wants him to send her a picture of his "D." (his penis)
Bowser goes under the covers to take the picture and sends it, but then he realizes that the picture was also sent to all of his contacts. In a panic, he tries to think of a way for no one to see his naughty picture and decides to destroy everyone's phones. He first smashes Junior's phone with an axe, then fakes grounding him for not taking out the trash, and then throws Chef Pee Pee's phone into a pot of boiling water. After that, Brooklyn Guy shows up at the door and says that his kid saw his picture while playing Angry Birds on his phone. Bowser says that it was an accident, and then tries to destroy Mario's phone as well, but decides to show Rosalina the picture, who yells in disgust.
Bowser then goes back to his room and decides he's learned his lesson about sending naughty pictures, but then he decides to take another picture of his penis, assuring himself he won't screw up on this one, but he does and the video ends with him accidentally sending the picture to his Mom, causing him to freak out.
Characters
Trivia
A short clip of this video can be seen in one of Chilly's vlogs of the same name.
After the post video you can see a plush of Bendy from Bendy and The Ink Machine in the background being held by a kid in New York City.
This video was originally made back in 2017 but hasn't been released until July, 2018.
This is Rosalina's third and final appearance in 2018 and SuperLuigiLogan.
This is one of the few recent videos where both Mario and Rosalina appear without Jeffy.
Turtler is a parody of Tinder, a mobile dating app.
The beginning of the video is similar to the part in Black Yoshi's Girlfriend Problem! where Black Yoshi gets sad because he was lonely, and sees a dating site commercial.
Despite appearing in the thumbnail, Bowser Junior and Chef Pee Pee both only appear in one scene.
According to the post-video, this video was going to be a Valentine's Day Special but due to Logan not liking the video it was not uploaded until the summer.
This video was the final appearance of Rosalina till she reappeared in Doctor Jeffy!
This is the only video that was age-restricted so late, being in July.
Bowser destroying Junior's phone and grounding him in a justified attempt to stop Junior from seeing the picture he accidentally sent to everyone could possibly be a nod to the older SML videos where Bowser has a very harsh personality towards Junior.
A box of Doofy-O's from Bowser Junior's 1st Grade! Part 5, Bowser Junior Goes To Disney World! Part 1, and many other videos, can be seen in one of the cubbies in the background in Bowser Junior's scene.
This is the 7th mistake video after Toad's Mistake, Toad's Mistake 2 Toad's Mistake 3, Chef Pee Pee's Mistake!, Jeffy's Mistake!, Black Yoshi's Mistake! and Cody's Mistake!.
This episode was uploaded 2 years after "Jeffy's Bad Word!", and 7 years after "Toad Away".
This is the final video to be uploaded in July 2018.
This video was originally going to be called "Bowser's Pic". It was also going to be called "Bowser's Naughty Picture".
When Bowser destroys Bowser Jr's phone, On the board, the words "Fat Boner" can be seen.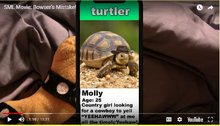 Errors
On Molly's page, there is a typo where it says "time!cYeehaw!". It however can be seen as intentional due to it not being uncommon to run into typos by people in media.
The title says it's an SML Movie, but it has the length of an SML Short.

However, in one of Chilly's vlogs, Logan stated that he would add some more content to the video to make it longer.
Poll
Did you like "Bowser's Mistake!"?
Community content is available under
CC-BY-SA
unless otherwise noted.