Wiki Targeted (Entertainment)
Play Sound
Please note the following:

This article may be disturbing to some users. Readers are at your own risk.
"Bowser's Biggest Fear" is the 22nd video of SML Movies.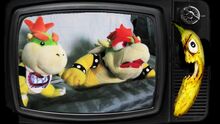 Synopsis
Old: Bowser watches The Man with the Banana.
New: Bowser is scared!
Plot
| | |
| --- | --- |
| | WHAT IS IT?! |

The Episode starts with Bowser watching Charley and Friends, The C&F episode is about Charleyy asking where his keys are and he is trying to figure them out in a dumb way, He then gets stuck in the closet. He then figures out that the keys were in his pocket. Bowser Junior then walks in and wants to watch a Scary Movie with Bowser. Bowser at first declines and then Bowser Junior makes fun of Soap Operas. Bowser Junior then asks Bowser if he is scared of Scary Movies then forces him to watch a movie. They then watch The Man with the Banana and Bowser starts shivering, Bowser Junior then tells him that People got thier eyes removed because of them watching the Man with the Banana. The movie starts starring Lovell Stanton seeing a banana and is scared of it and starts hiding. Bowser is hiding under the sheets denying that he is afraid of the movie. Lovell then sees the banana eating him alive and Bowser is freaking out. He then is denying that he is scared of the movie but Bowser Junior does not believe him. Lovell then runs away doing incredible acrobatics, the banana is then eaten by Lovell. Bowser is still denying that he is scared of the movie and Junior still does not believe him. The banana is revealed to not be dead, thus ending the video.
Characters
Main Characters
Trivia
Errors
Poll
Polls have been archived. See here for poll archive.